Event Details
Add to My Calendar
Patricia H. Snyder Concert and Lecture Series - State of our Union: Making Sense of Current Affairs
Tuesday, March 20, 2018
7:00 p.m.
Ridgway University Center, Eykamp Hall, University of Evansville Campus, 1800 Lincoln Ave, Evansville, IN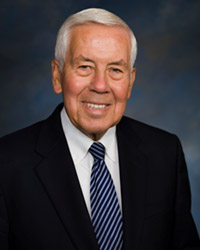 A keynote conversation between former Indiana Senator Richard Lugar and University of Evansville President Thomas A. Kazee.
This keynote conversation is presented in partnership with the University of Evansville Department of Law, Politics, and Society as part of an all-day series of current events and political science events and discussions, in honor of the retirement of Dr. Thomas Kazee and his academic career as a political scientist.
A fifth generation Hoosier, Senator Lugar left the United States Senate as the longest serving member of Congress in Indiana history. Before his election to the Senate, Senator Lugar helped manage the family's food machinery manufacturing business in Indianapolis, served on the Indianapolis Board of School Commissioners, and served two terms as mayor of Indianapolis. During his six terms in the Senate, he exercised leadership on critical issues such as food security, nuclear non-proliferation, energy independence, and free trade. In 1991, he forged a bipartisan partnership with then-Senate Armed Services Chairman Sam Nunn (D-Ga.) to destroy weapons of mass destruction in the former Soviet Union. To date, the Nunn-Lugar program has deactivated more than 7,600 nuclear warheads that were once aimed at the United States.
Senator Lugar and his wife, Charlene, were married Sept. 8, 1956, and have four sons and 13 grandchildren.