Event Details
Add to My Calendar
Patricia H. Snyder Concert and Lecture Series - Concert with World-renowned Pianist André Watts
Tuesday, April 30, 2019
7:30 p.m.
Victory Theatre, 600 Main St, Evansville, IN
Audience: UE Campus and Evansville Community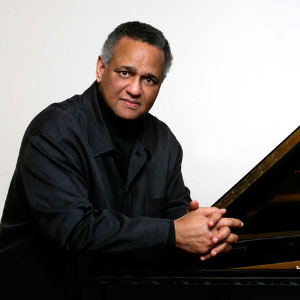 André Watts was only 16 when Leonard Bernstein chose him to make his debut with the New York Philharmonic in one of the orchestra's Young People's Concerts. More than half a century later, Watts remains one of America's most distinguished and celebrated performing artists. He is a regular guest at major summer music festivals, and has appeared with major United States orchestras and symphonies. Watts's international engagements have included appearances in Japan, Hong Kong, Germany, and Spain. His 1976 New York recital for Live from Lincoln Center was the first full length recital broadcast in the history of television. Watts's performance at the 38th Casals Festival in Puerto Rico was nominated for an Emmy Award in the category of Outstanding Individual Achievement in Cultural Programming. His extensive discography includes recordings of works by Gershwin, Chopin, Liszt and Tchaikovsky; recital CD's of works by Beethoven, Schubert, Liszt and Chopin; and recordings featuring the concertos of Liszt, MacDowell, Tchaikovsky, and Saint-Saens. Watts received a 2011 National Medal of Arts, and in 2006, he was inducted into the Hollywood Bowl of Fame to celebrate the 50th anniversary of his debut. He is the recipient of the 1988 Avery Fisher Prize. Watts was appointed to the Jack I. and Dora B. Hamlin Endowed Chair in Music at the Jacobs School of Music at Indiana University in 2004 and in 2017 was named a Distinguished Professor, the highest academic rank the university bestows upon its faculty.
A masterclass by André Watts will be offered the day before the concert:
Monday, April 29, 2019, 1:00 p.m.
Krannert Fine Arts Building, Wheeler Concert Hall, University of Evansville Campus, 1800 Lincoln Ave, Evansville, IN