UE students plan awareness event for Powering Rosa-Bell Project
Posted: December 7, 2018
University of Evansville ChangeLab students are planning an awareness event for their Powering Rosa-Bell project, which will provide solar panel-powered energy for the Rosa-Bell school in Puerto Rico. The event is Tuesday, December 11, at 5:00 p.m. in Room 100 in the Koch Center for Engineering and Science on UE's campus. It is free and open to the public.
There will be food, prizes, a panel discussion, and trivia games focusing on climate change and the environment, alternative energy, and Puerto Rico. The students will also make presentations about their project, and there will also be an informal discussion of the recent fourth national climate report.
Currently, electricity for the Rosa-Bell school comes from a standard power grid. When Hurricane Maria hit Puerto Rico in 2017, the grid lost power causing the school to be out of session for several months. The goal of the Rosa-Bell Project is to raise the money needed to purchase materials for the installation of solar panels, so the school no longer relies on the power grid. It is estimated that electricity generated by solar panels would save the school approximately $5,000 a month. This money could go to new programs, new classroom supplies, and an overall improvement of the school for the students.
UE Changee Award Winners Announced
Posted: October 28, 2018
The University of Evansville's inaugural Changee Awards ceremony was Sunday, October 28, in Eykamp Hall in Ridgway University Center on UE's campus. The formal event, sponsored by Toyota Motor Manufacturing, Indiana and Berkshire Hathaway real estate agent Philip R. Hooper, honored those in the UE community who have been outstanding changemaking catalysts.
Erin Lewis, associate director for UE's Center for Innovation & Change, said that the University was "excited about the opportunity to recognize and celebrate the incredible changemakers among our staff, students, and faculty and community partners. While we hope it becomes an annual event, we are so grateful to be able to do it this year, the year UE became an Ashoka Changemaker Campus."
Those receiving awards included:
CommuniTree - Community Initiative of the Year
Holly Carter, UE director of education abroad and Harlaxton programs - Changemaker Staff Member of the Year
Angela Reisetter, UE associate professor of physics - Changemaker Faculty Member of the Year
Hannah Jaramillo, UE student – Changemaker Student of the Year
E Cubed ChangeLab Team – Changemaker Student Team of the Year
Bushara Ahmed, UE student – Center for Innovation & Change Award
Ace Care, pro bono physical therapy clinic run by UE doctor of physical therapy students - Changemaker University Initiative of the Year
Mike Labitzke, deputy director of program management, Evansville Water and Sewer – Community Changemaker of the Year
Honeymoon Coffee Company - Community Business Partner of the Year
Mark Valenzuela, UE director of institutional effectiveness – Global Changemaker of the Year
LaNeeca Williams, UE chief diversity officer – Changemaker Inclusion Award
Students from North High School win Full Tuition at UE's High School Changemaker Challenge
Posted: October 24, 2018
Three students from North High School won full tuition to the University of Evansville today during the fourth annual High School Changemaker Challenge.
Ashlyn Thompson, Jaylyn Davis, and Jamie Born came up with an idea for a musical swing set that would serve as a stress reliever and community builder in downtown Evansville. The team researched what it would take to make their idea become a reality and presented to a panel of judges.
Each member of the winning team will receive a four-year, full-tuition scholarship to the University of Evansville. Scholarships will also be awarded to the second, third, and fourth ranked teams per student ($5,000, $2,500, and $1,000 respectively for four years):
Winning teams included:
4th place: Castle High School: Cognitive Behavioral Therapy Team
3rd place: Castle High School: Hope Park Team
2nd Place: Bosse High School: Filtering Wetland Park
1st Place: North High School: Musical Swing Set
Championship round judges included Evansville Mayor Lloyd Winnecke, UE president Christopher M. Pietruszkiewicz and other community leaders.
UE's High School Changemaker Challenge is designed to motivate young people to take a leading role in identifying and solving challenges in the world around them through innovation and creativity. High school students are invited to pitch their ideas to a panel of community leaders and compete for scholarships to UE where they can come to get the support needed to make their ideas become a reality.
This year, 18 teams from the following high schools competed: North, Evansville Day School, Heritage Hills, Bosse, New Tech Institute, Forest Park, Signature School, Evansville Christian School, Mater Dei, Castle, Central, Boonville, and Charles A. Tindley Academy.
The High School Changemaker Challenge was made possible this year by the Rotary Club of Evansville. Proceeds from the 2017 Rotary Club Santa Run went to support the Changemaker Challenge.
UE Ranked Number 7 Best College in the Midwest by U.S. News & World Report
Posted: September 10, 2018
The University of Evansville has been named seventh best college in the Midwest in U.S. News & World Report's annual Best Colleges rankings. UE has risen two spots in this year's overall ranking, and was again named as one of the top 10 value colleges in the Midwest.
The University was also recognized as one of the Most Innovative Schools in the Midwest for the first time. Top college officials from across the country made nominations for this list, selecting institutions known for making the most innovative improvements in curriculum, faculty, campus life, technology, or facilities.
In May 2018, UE was designated as a Changemaker Campus by Ashoka U for its role as a leader in social innovation and changemaking in higher education. UE is the first Changemaker Campus in Indiana.
The University was listed on several other U.S. News & World Report Best Colleges lists this year. UE's Schroeder School of Business was named the number three best undergraduate business school in the nation among small private colleges, with its accounting and finance programs coming in at number one and number two respectively.
The College of Engineering and Computer Science was named the number 25 best undergraduate engineering school in the nation among small private colleges with no doctorate.
The University was also recognized as the number six Best College for Veterans in the Midwest and a Top Midwest School for International Students and remains a Top 10 Best Value college.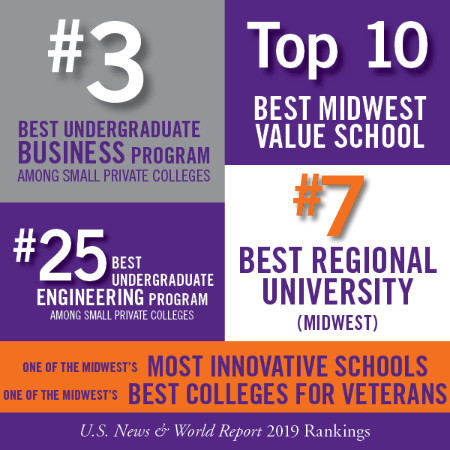 "To be recognized nationally on so many levels speaks volumes about the great programs, great people, and great qualities of this University," said Shane Davidson, vice president for enrollment and marketing at UE. "We are especially proud of making the most innovative list—innovation and changemaking are at the heart of the UE experience."
The U.S. News & World Report rankings are designed to help prospective students and their families evaluate college choices. The Best Colleges rankings are available online at www.usnews.com/colleges and will be published in U.S. News & World Report's Best Colleges 2019 guidebook, on newsstands later this month.
UE's Mark Valenzuela Breaks World Record for Tallest Tower of Tortillas at UE ChangeFest 2018
Posted: September 8, 2018
UE's Mark Valenzuela broke the world record for stacking the tallest tower of tortillas on Friday, September 7 during UE Changefest 2018. He not only broke the existing record of 68 centimeters, but went on to set a new record of 75 centimeters before his tower fell.
This was Mark's second attempt. In last year's attempt, his tower toppled just short of the world record.
"Mark exemplifies the characteristics of changemaking that UE stands for," said Jill Griffin, executive director for the Center for Innovation and Change at UE. "He had the courage to set a bold goal for a good cause and wasn't deterred by his initial failure."
ChangeFest is held annually to raise awareness for the positive change that Aces are making in the community and the world. This year's themed booths, salsa dancing lessons, record breaking tortilla tower, and more revolved around the theme to bring awareness for UE's upcoming Habitat for Humanity trip to Mexico.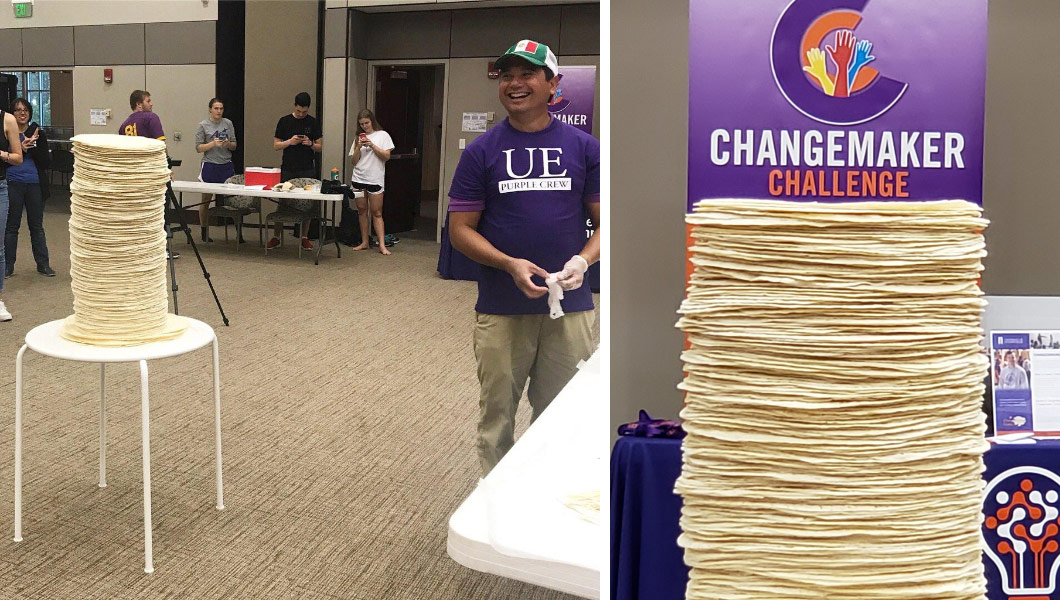 "People have been asking me, 'what does it feel like to hold a world record?'" "said Valenzuela. "It feels great, especially after the failed attempt last year. But really it all just started out as a way to bring attention to a Habitat for Humanity Global Village trip to Guatemala that happened in May 2018. And now we're off to Mexico in May 2019. If we get as good a group of students going in May as we had in Guatemala, then I would really feel a sense of accomplishment!"
Valenzuela is the associate vice president for academic affairs and is also teaching a ChangeLab course this semester in which students are exploring the use of tiny hones as a source of affordable housing. He recently moved into his current role after teaching in the mechanical and civil engineering department for 19 years.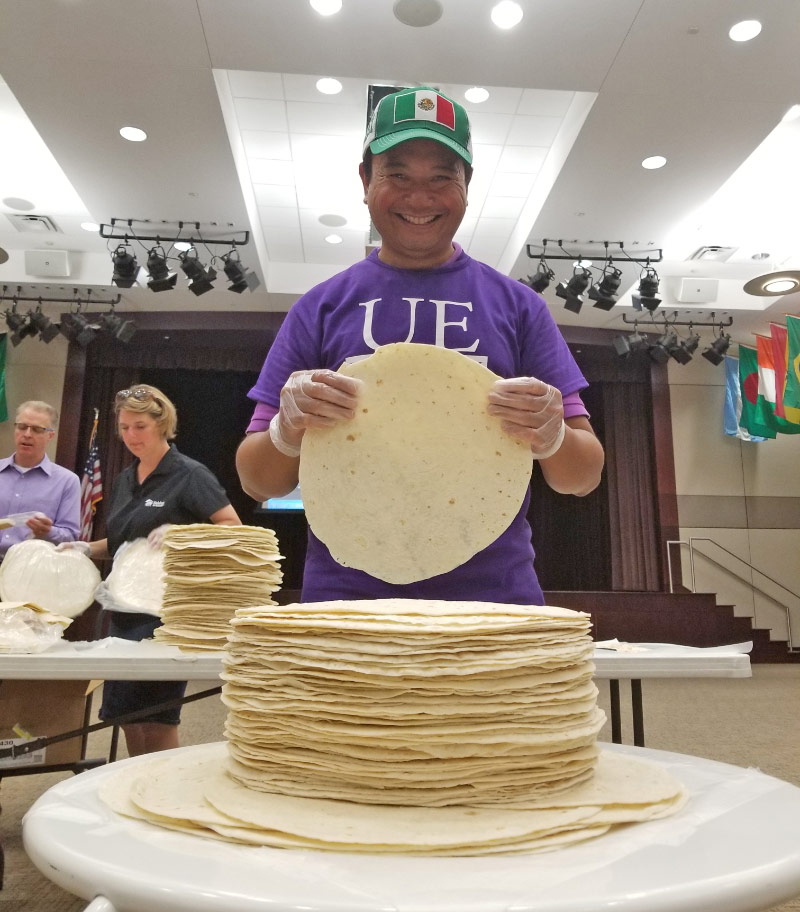 UE's ACE³ Program Named Finalist in National Competition
Posted: August 30, 2018
The University of Evansville's Access to Capital and Expertise for Emerging Entrepreneurs (ACE³) program has been selected as a Pioneer (finalist) in the Unlocking ₵hange Challenge: Innovations for Financial Wellbeing, Resilience, and Freedom. This nationwide competition seeks to find and support leading social entrepreneurs and innovators across the country.
The ACE³ program was one of 10 finalists chosen out a group of 140 entries. The four Champions (winners) of the challenge will be announced on Oct 3. Each winner will receive $50,000 to support their programs.
Representatives of ACE³ will soon be going to New York to attend the Unlocking ¢hange Challenge event. While there, they will have the opportunity to network, participate in workshops, and discuss the Ace³ program, sponsored by Old National Bank.
The challenge is a collaboration between BNY Mellon, an American worldwide banking and financial services holding company, and Ashoka, the world's largest group of social entrepreneurs and changemakers.
The University of Evansville was recently named a Changemaker Campus by Ashoka U, an Ashoka initiative. UE received the recognition due to its leadership in social innovation and changemaking in higher education. It's one of 50 universities world-wide with this distinction and the first in Indiana.
The ACE³ program is sponsored, funded, and co-managed by Old National Bank and is located in the Schroeder School of Business's Institute for Banking and Finance under the direction of Yasser Alhenawi, UE associate professor of finance. ACE³ manages a $100,000 portfolio, which offers microloans to women, minority, and disadvantaged owned businesses. Students interface with clients, review business plans, and serve as underwriters for loans.
"ACE³ gives students the opportunity to gain invaluable skills and real-world experience while making a positive impact in the community," said Greg Rawski, Schroeder Family Dean.
The Schroeder School of Business is the nation's fastest riser (+38 places) in the 2018 U.S. News & World Report Best Undergraduate Business Programs and is ranked Number 4 among small private business schools nationally.