Last Updated: August 20, 2020
As your prepare for return in the fall, we have provided the full 2020-2021 Academic Calendar for you to plan your semester.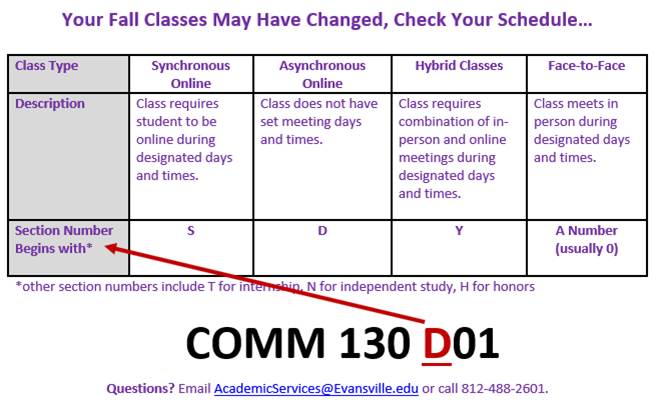 Your Fall classes may have changed. Check your schedule. For example, the ID may have changed from S to D or Y. Be sure to chech what section number the course begins with.
Below is a list of questions or concerns you may have about academic items at UE. Please remember we are here to help you. If you need anything, please email us at academicservices@evansville.edu or schedule an appointment with an Academic Advisor.
Adopt an Alternative Fall 2020 Academic Calendar
The University is starting the Fall 2020 semester on August 26, 2020.
The academic calendar has been adjusted with the last day of instruction on Wednesday, November 25. The last day of the semester will be Wednesday, December 9.

Clinical graduate programs and experiences in healthcare and education fields may, in some cases, begin before August 26.

Employees will return to campus with staggered schedules on August 12.
The University will be eliminating any extended breaks, such as fall break, to help reduce travel and allow for the ability to end the semester early. There will be one student Wellness Wednesday where no classes will be held on October 7.
At this time, we anticipate the spring 2021 semester will operate on a regular semester calendar but may need to be altered if any campus conditions change.
Hybrid Learning
Faculty have developed plans for specific classes or offer hybrid courses.
Online offerings will include a subset of available undergraduate courses, selected intentionally based on past enrollment, broad use across majors and plans of study, and input from department heads and associate deans.
Online courses will be tailored for the online environment, including video and audio, engaging activities, opportunities for student-to-student interaction and connections between students and faculty.
Safe Learning
Classes have been rescheduled to allow for more frequent disinfecting.
All classroom and lab space will be provided with disinfecting supplies for students and faculty to use between regular cleaning.
Instructional spaces will be evaluated for maximum safe occupancy with masks and face coverings and social distancing.

Room will be reduced to 75 percent occupancy for scheduled classes or less, with as many rooms as possible at a 50 percent occupancy.

Masks or face coverings will be required during the class sessions.
If a distance 12-feet can be maintained from students, an instructor may use an approved face shield and guidelines are referenced online. The University is not providing face shields.
Students who are ill or who are experiencing COVID-19 symptoms should not attend class. Instructors will excuse absences incurred as a result of COVID-19 symptoms, self-isolation, or quarantine.
Class Concerns
Are you concerned about something with your class, worried about a grade, having trouble with the online format, having connectivity issues, computer access issues?
We're all trying to figure this out, so don't be shy about asking for help.
Simply contact us at academicservices@evansville.edu or schedule an appointment with an Academic Advisor.
Peer Tutoring
Tutoring will still be offered using Zoom according to the tutoring schedule available on the Academic Peer Tutoring page. No in-person tutoring sessions will be held. Visit the Academic Peer Tutoring web page for the tutoring schedule and how to access the Zoom tutoring sessions.
Peer Coaching
Peer Coaches know how to help you complete the semester successfully. They are available to mentor students utilizing Zoom meetings, phone calls, or email. Do not struggle alone, if you need help, please contact Chad Hart at ch299@evansville.edu.
Advising
Change of Major
You can still change your major. Just email us at academicservices@evansville.edu.
We will need to know what your new major should be and if you are completely dropping your old major or simply adding (or if you're adding a new minor or dropping a minor).
We will take care of letting your old department and new department know so that you are assigned a new faculty advisor
Transcripts
Transcript requests are still being processed daily. The only change is that you cannot pick it up in person. Visit the registrar webpage to request your transcript to be sent either by email or through the mail.
Transfer Credit
Transcripts sent to UE for transfer credit work will still be evaluated as we receive them. If you have any questions regarding your transfer credit, email Lori Johnson at lj71@evansville.edu.
Enrollment Verifications or Other Letters
If you need an enrollment verification (or other type of letter detailing your enrollment at UE), simply email academicservices@evansville.edu, we are processing these daily.
Commencement
Commencement has been rescheduled to May of 2021. There will also be a special Virtual Graduate Recognition Day on September 19, 2020. See the full community-wide message regarding.
Research Assistance
Research Assistance provides personalized, one-on-one guidance in the most effective use of the University Libraries' collection of online resources. Students meet privately with a research librarian at the researcher's convenience. All RAP sessions are by appointment and will be conducted by phone, email and/or an online, synchronous technology (Zoom, Google, etc.). Sign up for a RAP session or Ask a Librarian for assistance.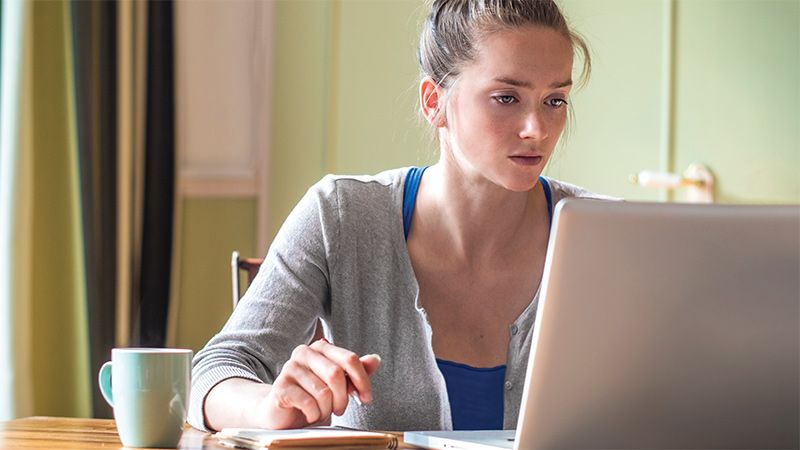 Virtual Backgrounds
If you are using ZoomTM or other collaboration tool and would like to use a custom background behind your webcam, here are some you can use.
---
Online Class Success
Structure and Shape Your Experience
Online classes will demand your attention and your time – perhaps in ways that you did not expect. Be proactive and be prepared to structure and shape your experience so that you are successful.
Have a regular study area/class meeting space.
Mark out a place that's dedicated to doing your online class work – a place with room for all your class materials and technology – that will help you feel focused. If possible, avoid using this space for other tasks. Remember – you are not on summer or spring break!

Have regular times set aside each day.
Just like setting aside a regular space, set aside regular times for your online class work. Having a consistent block of time devoted to each course will help you stay focused.

Limit interruptions and eliminate distractions.
Try turning off your phone, disabling notifications, and logging out of your social media or email accounts while working on your online class.
Prioritize and Plan
Online classes can lack the feeling of immediacy of traditional classes. Plan to meet your deadlines!
Carefully review the upcoming dates and deadlines and stay organized.
Be careful to stay on top of your assignments and their due dates – use a planner or calendar to help you. You may also want to create notifications or alerts to keep your pace.

Create a weekly plan for your time.
Just as if you were physically present on campus – with classes to go to, meetings to attend, and errands to run, create a weekly plan for your time based on what needs to be done.
Communicate and Engage
The more you connect with your classmates and your instructor, the more successful you'll be.
Communicate with your professor and classmates.
Make use of online discussion boards, group chats, group texts, or email to stay connected with your professor and others in your class. This will help hold you accountable. This is also a way to exercise applying your knowledge of the material.

Ask questions!
As you work through your online course, do not hesitate to ask questions to your instructor! Be proactive if you are not understanding the material or if you feel you are falling behind.