Last Updated: April 2, 2020
All residential students, including those living in fraternity houses and village units, are required to vacate University housing and return to their homes by Monday, March 16. Students should take all textbooks, laptops, and necessary personal belongings, as they will not have access to their residential unit until in-person classes resume.
If you are unable to return and need access to your text books and/or medication, please contact the Office of Residence Life.
Students who cannot return home (e.g., international students) will be allowed to remain housed in their assigned residence hall, but must register with the Office of Residence Life.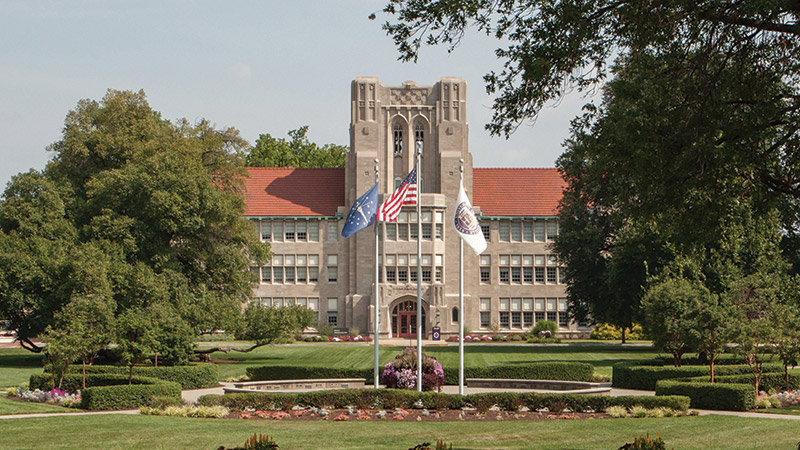 Frequently Asked Questions
Room and Board
Access to Buildings and Services
Academics
Work Study
---
Will I be refunded for room and board costs?

Yes, the University of Evansville will refund room and board charges for the Spring 2020 semester on a pro-rata basis.

The pro-rata refund will be applied to any outstanding balance with the University of Evansville. Any remaining balance will be refunded to the student.

Can I apply my room and board refund to the fall semester?

Yes, students may elect to apply any such refund to tuition, room and board charges for the Fall 2020 semester.

If applicable, please email studentfinancialservices@evansville.edu to confirm that you would like the refund amount(s) credited to the Fall 2020 semester's ​tuition, room and board.

Will I receive a refund for room and board if I have been approved to live on campus for the rest of the semester?

For those few remaining students who have registered with Residence Life and have been approved to live in University housing, a pro-rata refund will be calculated as of the date of checkout.

For any partial refund, these approved students must move out of University housing by April 3, 2020.

Again, these students may elect to apply any such refund to tuition, room and board charges for the Fall 2020 semester.

Will I receive a refund for room and board if I live in fraternity housing?

Any fraternity housing adjustments will be addressed by the individual fraternities except for Phi Gamma Delta, Phi Kappa Tau, and Tau Kappa Epsilon who will follow the housing refund policy as outlined above.

Fraternity members who have meal plans will receive a refund as outlined above.

When should I expect to receive my refund?

Refunds will be processed by April 15, 2020, to the bank account on file with the Office of Student Financial Services.

Refunds will ONLY be processed via direct deposit. Students anticipating a refund (for housing, meal plans, or from excess financial aid), should confirm or enter bank account information within WebAdvisor. Once logged in to WebAdvisor, select Students. From the Students menu, go to Financial Information and select Bank Information. Enter your bank's routing number and your personal account (savings or checking) number.

Refunds will be direct deposited into the bank account that is entered.

Will there be any additional refunds other than room and board?

All other associated fees will be applied toward the transition to online courses. No additional online technology fees are being applied.

Funds associated with the Student Activities Fee will remain in the Student Government Association fund.

What will happen with my AceBucks?

Balances remaining on AceBucks purchased separately by students over the course of the year or as additional AceBucks when you selected your meal plan will be rolled over to the Fall 2020 semester for use through September 30, 2020. These AceBucks include those purchased in AceBuck packages.

The roll over does not include the "normal" AceBucks that are part of the meal plan.

Who should I contact with questions about room & board reimbursement?

Please contact Student Financial Services with your questions at studentfinancialservices@evansville.edu or 812-488-2364.
---
Can I retrieve my belongings from my residence hall?

The process to retrieve belongings and check out of housing will be delayed until later in the semester. The University of Evansville is committed to protecting the campus and Evansville community from the possible spread of COVID-19; therefore, residence halls and villages will remain closed until further notice.

On Monday, March 23, Indiana's Governor and the Mayor of Indianapolis requested people not travel except for essential needs. In accordance with this order, we are determining the process for students to return to campus—once it is safe to do so—to completely move out from campus housing, and will announce those plans as soon as they are finalized.

We realize this is an inconvenience for many of our students but believe these actions are necessary to protect our campus and Evansville community from the possible spread of COVID-19. If you have an emergency request and need access to essential items (i.e. medication, passport, etc.) please contact residencelife@evansville.edu.

How do I get packages and mail forwarded?

We have posted details and instructions on package and mail forwarding.

What buildings can I access?

In compliance with the Governor of Indiana's Stay at Home order, the University has closed all access to campus buildings to visitors, students who are not registered with Residence Life, and non-essential staff until further notice.

What are the dining hours?

Effective March 24, the following service adjustments have been made for those approved to stay on campus:

Cafe Court will be open seven days a week for students approved to stay on campus and with a meal plan. Items will now be packaged "to go." Alternatives will be available for people with specialized diets. All approved students, regardless of whether they have a meal plan or not, will have access to ACES Place during the same hours.

Ridgway hours have been adjusted to the times below:

Ridgway and ACES Place Hours
All Week
Lunch
11:30 a.m. – 12:30 p.m.
Dinner
4:30 p.m. – 5:30 p.m.

Chick-fil-A, Rademacher's Café, and the Koch Market will be closed until further notice.
Aces Place will only be open during posted dining hours above.
Papa Johns will still accept Ace Bucks.

If Ridgway doors are closed, how will I access the building?

Ridgway will be open for students who have been approved to stay on campus. Access to Ridgway is only available via card access for approved students only at the times listed above (when dining services is open).

Is ACES Haven still available for students in need?

Yes. ACES Haven, located in the Neu Chapel, will be open Monday-Friday, 10:00 a.m. - 1:00 p.m.

Is the Health Center open?

The Health Center will provide services for students but WILL NOT ACCEPT WALK-IN APPOINTMENTS. ALL STUDENTS SEEKING MEDICAL ASSISTANCE MUST CALL 812-488-2033 to be pre-screened. The Health Center hours are Monday-Friday, 8:00 a.m. - 5:00 p.m.

Can I use the Fitness Center?

The Fitness Center will be closed until further notice

Will the library be open?

The library will be closed until further notice.

Is Counseling Services still open?

Counseling services will be available via Zoom or by phone during regular business hours for students seeking assistance. Students may either email the counseling services office at counselingservices@evansville.edu or call 812-488-2663 to seek assistance. As always, in the case of an urgent or life-threatening emergency, counseling support is available by calling the Office of Safety and Security at 812-488-2051 and asking for the counselor on-call.

How do I make an appointment with career development?

We want to keep you on track with your future goals. You can reach a career counselor by scheduling appointments as normal through Handshake or emailing career@evansville.edu.

I have a registered disability. How does this work with the online format?

Questions about accommodations for students who have registered disabilities should be directed to the Office of Disability Services, 812-488-2663 or to Debbie Brenton, coordinator of disability services, at db132@evansville.edu.
---
What do I do if I have technology issues?

How do I register for fall classes?

How do I drop/withdraw from a class?

What if I need a tutor?

What additional learning resources are there for students?
---
Will I still be paid for work-study?

Yes. To minimize the financial disruption to our student employees, the University will continue to pay active work-study employees during the closure. Those students who are able to work on projects remotely are requested to communicate directly with their supervisors. Supervisors and active work-study employees will receive an email with additional details. If you have any questions, please reach out the Sean Riley at sr252@evansville.edu.