Last Updated: June 18, 2020
In accordance with State Guidelines, the University of Evansville is planning our reopening stages. Stage 3 of our reopening plan is available for use for of UE Community.
Students who cannot return home (e.g., international students) will be allowed to remain housed in their assigned residence hall, but must register with the Office of Residence Life.
Frequently Asked Questions
Room and Board
Access to Buildings and Services
Academics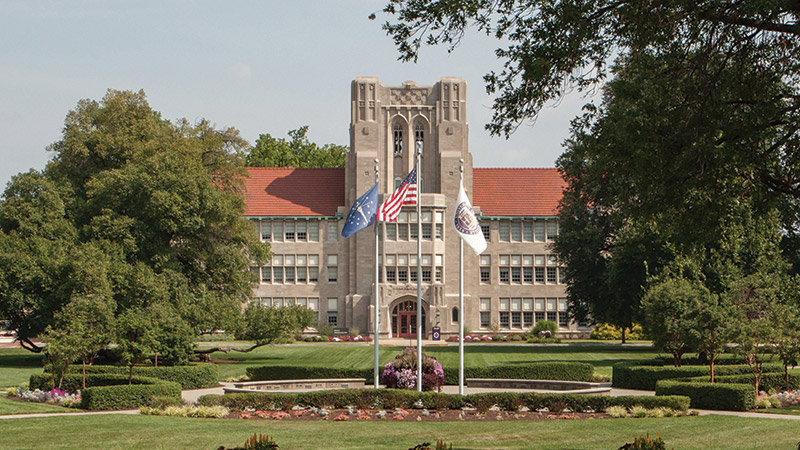 ---
What will happen with my AceBucks?

Balances remaining on AceBucks purchased separately by students over the course of the year or as additional AceBucks when you selected your meal plan will be rolled over to the Fall 2020 semester for use through September 30, 2020. These AceBucks include those purchased in AceBuck packages.

The roll over does not include the "normal" AceBucks that are part of the meal plan.
---
What buildings can I access?

In compliance with the Governor of Indiana's Stay at Home order, the University has closed all access to campus buildings to visitors, students who are not registered with Residence Life, and non-essential staff until further notice.

What are the dining hours?

Effective March 24, the following service adjustments have been made for those approved to stay on campus:

Cafe Court will be open seven days a week for students approved to stay on campus and with a meal plan. Items will now be packaged "to go." Alternatives will be available for people with specialized diets. All approved students, regardless of whether they have a meal plan or not, will have access to ACES Place during the same hours.

Ridgway hours have been adjusted to the times below:

Ridgway and ACES Place Hours
All Week
Lunch
11:30 a.m. – 12:30 p.m.
Dinner
4:30 p.m. – 5:30 p.m.

Chick-fil-A, Rademacher's Café, and the Koch Market will be closed until further notice.
Aces Place will only be open during posted dining hours above.
Papa Johns will still accept Ace Bucks.

If Ridgway doors are closed, how will I access the building?

Ridgway will be open for students who have been approved to stay on campus. Access to Ridgway is only available via card access for approved students only at the times listed above (when dining services is open).

Is ACES Haven still available for students in need?

Yes. ACES Haven, located in the Neu Chapel, will be open Monday-Friday, 10:00 a.m. - 1:00 p.m.

Is the Health Center open?

The Health Center will provide services for students but WILL NOT ACCEPT WALK-IN APPOINTMENTS. ALL STUDENTS SEEKING MEDICAL ASSISTANCE MUST CALL 812-488-2033 to be pre-screened. The Health Center hours are Monday-Friday, 8:00 a.m. - 12:00 p.m.

Can I use the Fitness Center?

The Fitness Center will be closed until further notice

Will the library be open?

The library will be closed until further notice.

Is Counseling Services still open?

During COVID-19, Counseling Services will be available via Zoom meetings or phone calls during regular business hours for students seeking assistance. Students may either email the Counseling Services office at counselingservices@evansville.edu or call 812-488-2663. In the case of an urgent or life-threatening emergency, please call 911.

How do I make an appointment with career development?

We want to keep you on track with your future goals. You can reach a career counselor by scheduling appointments as normal through Handshake or emailing career@evansville.edu.

I have a registered disability. How does this work with the online format?

Questions about accommodations for students who have registered disabilities should be directed to the Office of Disability Services, 812-488-2663 or to Debbie Brenton, coordinator of disability services, at db132@evansville.edu.
---
What do I do if I have technology issues?

The OTS help desk will be staffed, Monday-Friday, 8:00 a.m. - 5:00 p.m. Please call 812-488-2077 or email help@evansville.edu.

What if I need a tutor?

Tutoring will still be offered according to the tutoring schedule. The tutoring staff is working on setting up Zoom sessions for the tutoring and will be sending communications regarding this by Tuesday evening (March 17) or you can check the Academic Advising webpage for up-to-date information. If you have any questions, email academicservices@evansville.edu.

Academic advising support is available online. Students can make appointments online.

What additional learning resources are there for students?

Students can access our resources page on our website for additional tools for online instruction.