An Evening with Daymond John
Presented by: Junior Achievement and the University of Evansville
Junior Achievement of Southwestern Indiana and the University of Evansville partnered to bring celebrity entrepreneur, Daymond John to Evansville. The free public event was held at 7:00 p.m. on October 20, 2015, at the Victory Theatre in downtown Evansville. The event, An Evening with Daymond John, served as both the culmination of JA's 50th anniversary celebrations as well as UE's 2015 annual Patricia H. Snyder Concert and Lecture Series, which brings renowned speakers to Evansville at no cost to the public.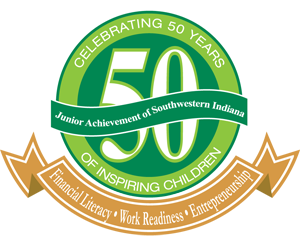 About Daymond John
Over the last 20 years, John has evolved from one of the most successful fashion icons of his generation to a highly sought after branding expert, author, consultant, and speaker. John's creative vision and strong knowledge of the marketplace created FUBU (For Us By Us), one of the most iconic fashion icons in recent years. In 2009, John joined the cast of the ABC entrepreneurial business show, Shark Tank, and has since become a household name. On the show, John and four other prominent executives listen to business pitches from everyday people hoping to launch their company or product to new heights.
About the Patricia Snyder Lecture Series
Made possible through an endowment from the late Patricia H. Snyder, trustee and longtime friend of the University of Evansville, the Patricia H. Snyder Concert & Lecture Series was created in 1997 to bring speakers or performers of national or international renown to Evansville at no cost to the public. The concerts and lectures in this series span a wide variety of topics, and are aimed at both the Evansville and campus communities. Events are free and open to the public.