Allen Vizzutti with Wind Ensemble and Jazz I
7:30 p.m., Tuesday, October 16, 2018
Victory Theatre, 600 Main St, Evansville, IN
The Department of Music from the University of Evansville is pleased to welcome legendary trumpet soloist, Allen Vizzutti who will join the UE Jazz Ensemble and Wind Ensemble for a concert on Tuesday, October 16, 2018 at 7:30 P.M. in the Victory Theater.
Allen Vizzutti is recognized as one of the leading trumpet soloists in the world today. He is equally at home with classical and jazz music. His guest artist performances and television broadcasts span the globe, including: Germany, Poland, England, Sweden, Brazil, Canada, Japan, Australia and the United States. He has shared the stage with Chick Corea, 'Doc' Severinsen, the NBC Tonight Show Band, the Airmen Of Note, the Army Blues and Army Symphony Orchestra, Chuck Mangione, Woody Herman, Japan's NHK Orchestra and the New Tokyo Philharmonic, the Budapest Radio Orchestra, the Saint Paul Chamber Orchestra, the Leipzig Wind Symphony and the Kosie Wind Orchestra, to name a few.
In addition to the Tuesday night concert, Allen Vizzutti will be giving a Master Class on Monday, October 15th on the campus of the University of Evansville in Krannert Fine Arts, Main Rehearsal room from 4:00 to 5:30 P.M. The Master Class is a free event. For additional information about Allen Vizzutti please consult: vizzutti.com . For more information about this event and the Department of Music, please contact the music office at (812) 488-2754 or by emailing music@evansville.edu.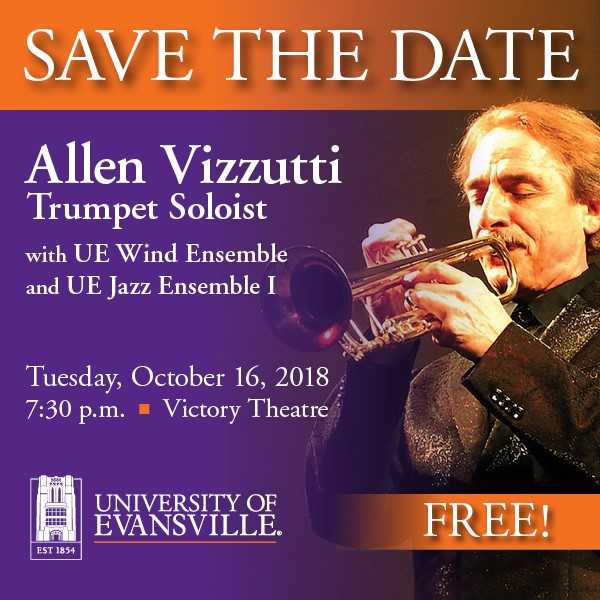 Add to My Calendar
Office Phone:
812-488-2754
Office Email:
music@evansville.edu
Office Location:
Room 133, Krannert Hall of Art and Music