2019 Public Health Scholars Chosen
Posted: December 3, 2019
The Institute for Public Health Scholar Program aims to provide support to promote collaborative work in the field of public health. This year's scholars have been chosen and they are:
Kelsey Preocanin (Student Scholar) - Kelsey, a public health major, will develop and implement effective strategies to reduce the prevalence of viral infections while at Harlaxton.

Abraham Dalen Traore (Community Scholar) - Dalen, a current MPH student and Deaconess employee, will strive to implement a lactation program at UE to show support to the health of its employees and students who are nursing mothers.

Diana Rodriguez Quevedo (Faculty Scholar) - Diana, associate professor of spanish, will examine medical/therapy services and barriers to accessing these services for Hispanic Latinx families of children with special needs especially relating to autism spectrum disorder.
Congratulations to this year's Institute for Public Health Scholars!
Mary Kessler Named as a 2019 ATHENA Award Finalist
Posted: December 4, 2018
Mary Kessler, dean of the College of Education and Health Sciences at UE, has been named one of the 2019 ATHENA Award® finalists.
Recipients of the ATHENA Award® are exceptional leaders in the Evansville-area community that have actively and generously assisted others in the attainment of professional excellence and leadership skills.
Those who nominated Kessler for the award cited many personal traits and professional accomplishments:
"From assisting in career decisions, to helping advance careers, Mary encourages women to pursue their full potential and continually helps them along the way."
"While achieving a high level in her own career, Mary serves as a role model to many women, both young and mature. Regardless of her professional demands, Mary is devoted to guiding women in their pursuits through many fields including engineering, law, health and other professions, is an advocate for women in our community, and inspires women to attain the highest level within their careers. Most importantly, Mary promotes work-life balance and the importance of professional women finding time to care for themselves in order to be their personal best at home and work."
"Mary has been the recipient of UE's Global Scholar Award, as well as the Dean's Outstanding Professor Award for her work with students, and the Student's Award for Advisor of the Year. She has mentored physical therapy students in the research process and has had several studies presented at national professional conferences. Mary has also been recognized for her leadership role in bringing the [Stone Family Center for Health Sciences] to completion."
The ATHENA Awards® have been hosted by the Southwest Indiana Chamber annual since the 1990s. The 2019 recipient will be announced at the annual ATHENA Award® Luncheon on February 22, 2019.
Other finalists include: Gina Gibson, executive director at Evansville Christian Life Center; Deena Laska Lewis, founder and choreographer at Children's Center for Dance Education; Millie Marshall, president of Toyota Motor Manufacturing Indiana; Susan Parsons, CFO at Koch Enterprises; and Carrie Roelle, partner at Kahn, Dees, Donovan, & Kahn, LLP.
Chicago-based ATHENA International is a nonprofit organization founded in 1982 by Martha Mertz. In addition to supporting, developing, and honoring women leaders, the organization seeks to create balance in leadership worldwide and inspire women to achieve their full potential. Since the program's inception in 1982, nearly 6,000 leaders in more than 500 communities have received the ATHENA Award®.
UE's Master of Public Health Now Offered Fully Online
Posted: October 19, 2018
The University of Evansville now offers its Master of Public Health (MPH) in a fully online format. It is one of the few MPH programs in Indiana to be offered fully online.
"Distance learning provides location and day-to-day flexibility in scheduling "class" for students who have work, family, and/or other responsibilities," says Payal Patel-Dovlatabadi, associate professor of public health and director of the program.
The master's degree requires 42 credit hours divided into three categories: public health core courses; health policy core courses; and a capstone course and internship.
"Given that public health is a multidisciplinary field, a wide array of majors could benefit from an MPH," says Patel-Dovlatabadi. "Further, those working in non-governmental organizations and the healthcare industry could benefit greatly by incorporating public health concepts and competencies into current practice."
Within UE's School of Health Sciences, the health policy program aims to provide its students with a foundation of knowledge in public health and health policy, and to teach concepts, principles, and scientific skills necessary for health services policy development and evaluation. Students will develop an understanding of the importance of data and research as policy and management tools. Students are taught to anticipate future needs relative to expanding technology, changing patterns of community health, and emerging societal and programmatic needs.
Students may enroll on either a full-time or part-time basis, with a full-time student taking two years to complete the program. All courses are taught in an online format and are $525 per credit hour.
UE public health and health administration students present in Chicago
Posted: April 26, 2018
University of Evansville faculty members and students from health services administration and public health presented research at the MBAA International Conference in Chicago, April 18-20.
Faculty included Su Jin Jeong, Payal Patel-Dovlatabadi, and Bill Stroube. Students included Hassan Arekemase, Emily Baggett, Nehchal Bedi, Anthony Chastain, Sarah Harness, Sadaf Jawad, Kendra Mehling, and Kanza Shamin. Emily Baggett's paper co-authored with Bill Stroube received the overall best paper award from the Business and Health Administration Association.
University of Evansville Announces Institute for Public Health
Posted: April 24, 2018
The University of Evansville has announced a new Institute for Public Health, which will facilitate partnerships that provide hands-on experiences to students while addressing community needs in the area of public health.
The mission of the institute is to "cultivate multidisciplinary partnerships among faculty, students, and community members in ways that support the planning and development of evidence-based programs and sound policy."
"The community is where we work," said William McConnell, PhD, JD, MPH, director of the Institute for Public Health at UE. "The institute will provide UE students and faculty a platform to come together with the community to solve real public health issues."
The institute's first major project has been leading and collaborating with 11 hospital systems around the state of Indiana to conduct a 39-county Community Health Needs Assessment. Projects like this not only connect the University with communities and leaders in health but also provide a range of opportunities for student and faculty collaboration and research.
In addition to serving area needs, McConnell says this is a great opportunity for collaboration across the university and community.
"The Institute for Public Health will be genuinely interdisciplinary, involving students and faculty members from across the institution," McConnell said. "It is an area that intersects with many of our disciplines - sociology, political science, management, marketing, data science, civil engineering, ethics and social change, and all of our health fields, just to name a few."
"The services offered by the Institute for Public Health are a great addition to the already remarkable collaborative efforts happening at the downtown health science center," said UE president Tom Kazee. "UE's physician assistant and physical therapy programs will be located at the downtown facility, offering numerous opportunities for the institute's involvement in interprofessional education and collaboration."
For more information or to request consultation on a public health issue, please visit the Institute for Public Health's website.
UE Offers Adult Learners Access to Education with Competitive Pricing and Expanded Program Offerings
Posted: April 2, 2018
The University of Evansville offers competitive pricing for adult learners looking to complete their undergraduate and graduate degrees in a variety of areas. The following programs are available at the listed rates, which represent a significant reduction from traditional program pricing:
Undergraduate Degrees: $315 per credit hour
Organizational Leadership
Registered Nurse to Bachelor of Science in Nursing (RN to BSN)
Transition to Teaching
University Studies
Graduate Degrees: $525 per credit hour
Master of Science in Athletic Training
Master of Public Health
Master of Science in Public Service Administration
Students interested in the University Studies degree program can register now for a May 14 start date. Applications are also open for a May start in the Master of Science in Athletic Training. All other programs listed above will begin in fall 2018.
"At UE, we're committed to providing an affordable, accessible education to directly fill needs in our community" said Sharon Gieselman, chair of UE's department of education. "The transition to teaching program in particular is designed to address the teacher shortage, especially in high need areas."
Jerrilee LaMar, chair of UE's nursing department, says the same of the RN to BSN program. "The program focuses on meeting the needs of the adult learner and the working nurse while opening doors for career advancement opportunities that will positively impact the community," says LaMar.
For the adult learner looking to further their education at the graduate level, UE offers programs in several different subject areas. Some of the programs are available in the evening and in accelerated formats. In addition to those listed above, UE offers a Master of Science in Health Services Administration designed for those who want to assume management positions in public and private health service organizations.
"To successfully serve the adult learners with professional and educational growth, it is important to provide flexible options" said Lindsay Roberts, director of UE's adult education. "To provide the student with the opportunity to directly apply what he or she learns in the classroom to the workplace the next day is extremely valuable."
UE to Welcome Dr. Jim A. Turpin for February 22 Lecture - A Journey: Monocytes, HIV Prevention, and UE
Posted: February 15, 2018
The University of Evansville will welcome Jim A. Turpin, PhD, from the National Institutes of Health for a free public lecture on Thursday, February 22 at 4:00 p.m. in Vectren Lecture Hall, room 100 of the Koch Center for Engineering and Science on UE's campus.
Turpin's lecture, titled A Journey: Monocytes, HIV Prevention, and UE. will be part of a three-day campus visit hosted by the departments of biology and public health at UE. Turpin is a 1980 alumnus of UE's biology department.
As a program officer and branch chief at NIH's National Institute of Allergy and Infectious Diseases (NIAID), Turpin conducts and supports basic and applied research to better understand and ultimately prevent a HIV/AIDS infection. Turpin conducts and supports basic and applied research focused on developing new and better methods for prevention of HIV/AIDS transmission in healthy uninfected adolescents, men and women.
Turpin's responsibilities at the NIAID include oversight and management of the preclinical non-vaccine biomedical prevention preclinical program. He is the program officer and contact for the following grant programs: Integrated Preclinical/Clinical Program for HIV Topical Microbicides (IPCP-HTM), Prevention Innovation Program (PIP), Mucosal Environment and HIV Prevention Program (MEHP), Sustained Release Antiretrovirals for HIV Treatment and Prevention (SRATP), and Risk of Adolescence and Injury in HIV Susceptibility (RAIS). He is the lead for the DAIDS Non-vaccine Biomedical Prevention Sustained Release and Multipurpose Prevention Technologies programs. His branch also oversees the Comprehensive Resources for HIV Topical Microbicide and Biomedical Prevention (CRMP) contract, which supports provision of gap-filling resources for topical microbicide and prevention development for product sponsors and best practice working groups.
For more information, contact Dale Edwards, Department of Biology, University of Evansville, de3@evansville.edu.
High Schoolers Can Earn College Credit Through UE's Online Health Sciences Certificate
Posted: October 23, 2017
High school juniors and seniors interested in a career in the health professions may earn college credit through the University of Evansville's Health Sciences Certificate program. This online program provides exposure to a variety of health science disciplines giving participants a head start on their future health-related careers.
The Health Sciences Certificate provides required credits for the following University of Evansville majors:
Athletic Training
Clinical Laboratory Science
Exercise and Sport Science
Nursing
Public Health
Additionally, the certificate provides prerequisite course work for the following programs: Physical Therapist Assistant, Physical Therapy, and Physician Assistant Science.
"This certificate provides students with a competitive advantage as they begin their college careers," said Mary Kessler, dean of the College of Education and Health Science at UE. "Courses can be taken to meet a student's personal needs and schedule for a fraction of the cost."
The program provides up to 13 hours of college credit. The certificate includes five core courses and one elective, all taught online for $125 per credit hour, plus a semester-based registration and technology fee of $85.
The Health Sciences Certificate program is limited to high school juniors and seniors. Courses are offered online each fall and spring semester in eight- or 16-week offerings.
More information and online registration can be found at www.evansville.edu/healthcertificate.
UE Announces New Masters Level Program in Public Health
Posted: March 15, 2016
The University of Evansville has announced plans to launch a new master's level program in public health, with a dual degree option. Classes in the program will begin in the fall of 2016.
The new master's level program will take two years to complete. Its emphasis will be on health policy and will provide graduating students with a Master of Public Health degree. Students from any major can apply to the program.
The dual degree option, designed for UE undergraduate public health majors, will provide graduating students with a Master of Public Health degree concurrently with a Bachelor of Science degree in public health. Those pursuing this option would complete the coursework in five years.
The program includes education in such areas as public health, environmental health, managed care, public health law and health economics. Students in the program will also complete an internship in the field of public health.
Payal Patel-Dovlatabadi, UE assistant professor and director of its public health program, said that the program "is another opportunity for students to stay at UE and pursue a graduate education. Enrollment in UE's public health major has increased each year since it was introduced. Many of those students have expressed interest in pursuing a master of public health."
Also, Patel-Dovlatabadi pointed out, there is a growing need for professionals with degrees in public health.
"The job outlook is bright in this area," Patel-Dovlatabadi explained. "Public health is a multidisciplinary field and a master's degree prepares students well for a number of these positions."
The Association of Schools of Public Health has estimated that there will be a shortage of public health professionals by 2020. The US Bureau of Labor Statistics states that job growth in the public health field is 24 percent, higher than the national average.
For more information on the new master's level program in public health, visit www.evansville.edu/majors/publichealth.
Patel-Dovlatabadi discusses Zika Virus on Eyewitness News
Posted: February 5, 2016
Payal Patel-Dovlatabadi, assistant professor and director of public health, was invited for an in-depth segment on Eyewitness News to discuss the Zika virus. The interview can be found here.
UE Adds Health Communication to Expand Health Major Options
Posted: June 16, 2015
The University of Evansville has approved a new undergraduate major in health communication that will enable students to develop communication skills that can be applied specifically to careers in the health field. UE will be one of the few universities that offer an undergraduate major specifically in health communication.
The health communication major will give students the basic knowledge and skills needed to go on to careers in advertising, public relations, journalism and multimedia production specifically in the health field. It will also give students an understanding of areas related to public health and health services where this knowledge can be applied. It will provide practical experience to students through internships with professional organizations in the health field.
Specific areas that health communication majors will be exposed to include:
Provider-patient communication
Heath care organization communication
Risk communication / Crisis communication
Strategic health communication campaigns
New communication technologies (eHealth)
Careers in which expertise in health communication can be applied include:
Patient advocacy
Health care marketing
Public health campaign specialist
Health education specialist
Risk communication specialist
Health publication editor/reporter
Health information manager
Advances in communication technology and the growth of the health industry have created an environment for health communication to become one of the fastest growing areas in the field of communication. The U.S. Bureau of Labor Statistics projects job growth in areas related to health communication will be faster than average from 2012-2022.
For more information on IE's new health communication major, visit: www.evansville.edu/majors/communication/healthcommunication.cfm
UE's new health communications major joins a rich selection of health profession programs offered at the University, including health services administration, physical therapy, physical therapy assistant, and nursing. Another addition will be the Physician Assistant program, slated to begin in 2017. Physician assistants are nationally certified and state-licensed health care professionals who provide direct patient care and work as part of a physician-led team in delivering a broad range of diagnostic, therapeutic, preventative, and health maintenance services. They work in diverse medical and surgical specialties including family and internal medicine, emergency care, pediatrics, obstetrics and gynecology, general surgery and sub-surgical specialties, and mental and behavioral health care. PAs work in a wide variety of settings including hospitals, clinics, physicians' offices, and other health care facilities. For more information about the profession visit www.aapa.org.
The Bureau of Labor projects that the job outlook for physician assistants is very strong. Their estimate is for employment of physician assistants to grow 38 percent from 2012 to 2022, much faster than the average for all occupations. For more information visit www.bls.gov/ooh/healthcare/physician-assistants.htm.
Dr. Payal Patel-Dovlatabadi on WNIN's HEALTHY AIR: HEALTHY COMMUNITIES
Posted: November 24, 2014
Currently, almost 20% of all energy consumption in the US is used for personal transportation. Payal Patel-Dovlatabadi weighs in as this program takes a look at what individuals and the community can do to reduce the level of energy consumption for transportation and reduce transportation related pollution. Patel-Dovlatabadi is assistant professor of public health and director of the public health program at the University of Evansville.
In-Depth: Dr. Payal Patel-Dovlatabadi and Eric Stoessel Talk Ebola Preparations with Brad Byrd
Posted: October 27, 2014
Brad Byrd sits down with Dr. Payal Patel-Dovlatabadi, the Director of Public Health at the University of Evansville, and Eric Stoessel, a public health major at UE, to talk more about the latest developments involving Ebola and how agencies are preparing for a possible outbreak in case the disease reaches the Tri-State.
In-Depth: Dr. Payal Patel-Dovlatabadi Talks Gluten Risks with Brad Byrd
Posted: August 13, 2014
The Food and Drug Administration announced it is now enforcing a rule that foods labeled "gluten free" must contain less than 20 parts per million of gluten. So, what exactly does this mean to the millions of people who are gluten intolerant or who have celiac disease?

Brad Byrd talks with Dr. Payal Patel-Dovlatabadi, the Director of Public Health at the University of Evansville, about some important facts about gluten.
In-Depth: Dr. Payal Patel-Dovlatabadi Breaks Down Ebola with Brad Byrd
Posted: August 5, 2014
The World Health Organization says Ebola has infected more than 1,600 people and killed nearly 900 in west African countries.

Dr. Payal Patel-Dovlatabadi, the Director of Public Health at the University of Evansville, talks with Brad Byrd on important facts Americans need to know about the Ebola virus.
In-Depth: Dr. Payal Patel-Dovlatabadi Shares MERS Facts with Brad Byrd
Posted: May 5, 2014
The Centers for Disease Control and Prevention confirmed the first case of the virus in the U.S. last week, a doctor from Saudi Arabia who has been hospitalized in Munster, Indiana near Chicago.

Brad Byrd is joined tonight by Dr. Payal Patel-Dovlatabadi, the Director of Public Health at the University of Evansville, to discuss some important facts about MERS.
UE Students Compete in National Undergraduate Public Health Scholar Bowl
Posted: April 22, 2013
Congratulations to Cyril Patra, Eric Stoessel, and Michaela Tussey, who traveled to St. Louis this past weekend to compete in the National Undergraduate Public Health Scholar Bowl. The competition consisted of a trivia challenge and case study presentation. The team's faculty advisor, Dr. Payal Patel-Dovlatabadi, notes that the students performed extremely well and were great representatives for UE!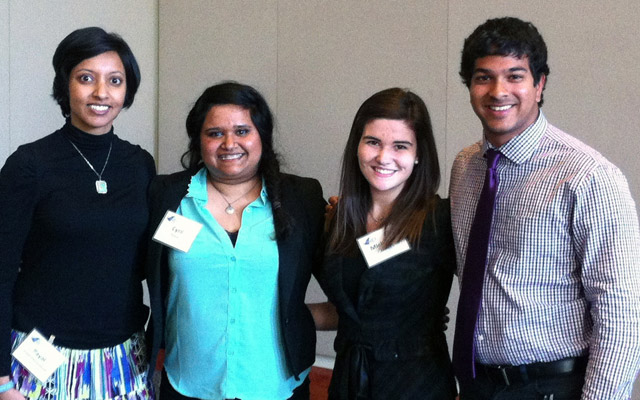 Public Health Program to Offer Nutrition Emphasis
Posted: March 27, 2013
Students interested in studying public health at the University of Evansville now have the opportunity to specialize in nutrition.
The nutrition emphasis was approved last week by UE's curriculum committee and involves the creation of two new courses in the existing public health program: Public Health Nutrition and Food Science.
"With the ongoing cultural shift toward preventive care and wellness, the University of Evansville has seen a significant increase in the number of students interested in studying nutrition," said Payal Patel-Dovlatabadi, DrPH, assistant professor and director of the public health program. "Nutrition is a key part of public health, and the need for trained professionals in this field has never been greater. We're excited to be at the forefront of this effort and prepare students for careers that make a significant impact on individual and community needs."
A Bachelor of Science in public health with an emphasis in nutrition will prepare students for diverse employment opportunities with state and local health departments, health and school systems, government agencies, universities and research institutions, wellness centers, and consulting firms, to name a few. The program will also prepare students who wish to pursue advanced degrees in fields including physical therapy, public health, health services administration, dietetics, and health education.
For more information on the public health program and the new nutrition emphasis, please contact program director Payal Patel-Dovlatabadi at 812-488-2210 or visit http://www.evansville.edu/majors/publichealth/.
Members of the media interested in scheduling an interview with Patel-Dovlatabadi may contact Kristen Lund, director of news services, at 812-488-2241.