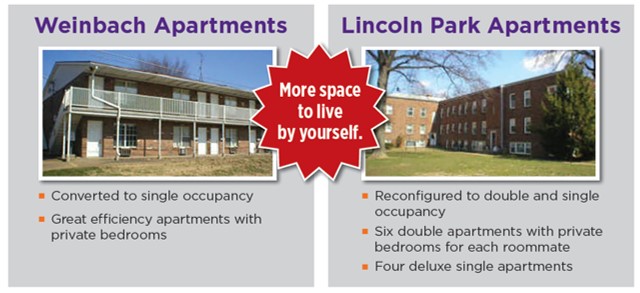 Apartment housing is available to students who have obtained junior/senior standing at the University. These are part of the University's upperclass housing options that are collectively referred to as the Villages.  These apartments consist of single person and two-person occupancy. All Village apartment complexes are maintained by the University; housing charges include utilities. Access to the UE's Wi-Fi Internet is provided. Student residents must adhere to all University and Residence Life policies. Apartments come furnished with standard furniture. Bedrooms contain a bed, desk/chair, dresser, and closet space for each student resident. Kitchens come equipped with a stove/oven, refrigerator and dining table with chairs. Students with a vehicle should obtain a parking permit from the Office of Public Safety.
---
Lincoln Park Apartments
The Lincoln Park Apartments are located at 2024 Lincoln Avenue in a residential area. These apartments offer the freedom and responsibility of living in a community. There are both single apartments and 2-person apartments (with private bedrooms). A campus Ethernet port is available in the living room and UE WiFi is available in each apartment. Laundry facilities are located in the A-section. There are four single apartments and six 2-person apartments in this apartment complex.
Weinbach Apartments
Weinbach apartments are located at 216 South Weinbach Avenue. These cozy apartments have access to a small picnic area with a basketball court. Laundry facilities are located on the lower level. A total of 18 single apartments are available.
Office Phone
812-488-2956

Office Email
residencelife@evansville.edu

Office Location
Student Life Center, Second Floor, Ridgway University Center