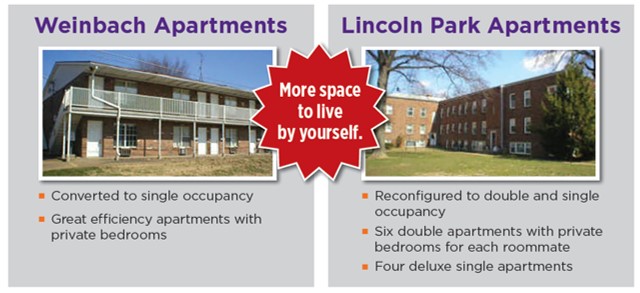 There are several Village apartment complexes available to student who have obtained junior/senior standing at the University. Dependent on location, available apartments have 2, 3, or 4 person occupancy. Single person apartments are also available. All Village apartment complexes are maintained by the University; housing charges include utilities. Access to the UE's Wi-Fi Internet is provided. Student residents must adhere to all University and Residence Life policies. Apartments come furnished with standard wood frame furniture. Bedrooms contain a bed, desk/chair, dresser, and closet space for each student resident. Kitchens come equipped with a stove/oven, refrigerator and dining table with chairs. Students with a vehicle should purchase a parking permit from the Office of Public Safety.
---
University Apartments
The University Apartments are located at 2010 Lincoln Avenue. These 1-bedroom apartments have a kitchenette, small dining area, and living room. There is convenient access to several local eateries such as the Slice, Lincoln Garden, Jeanne's Gelato, and Honey Moon Coffee Co. This complex contains 18 2-person apartments. Laundry facilities are accessible at the Lincoln Park Apartments.
Lincoln Park Apartments
The Lincoln Park Apartments are located at 2024 Lincoln Avenue in a residential area. These apartments offer the freedom and responsibility of living in a community. There are both single apartments and 2-person apartments (with private bedrooms). A campus Ethernet port is available in the living room and UE WiFi is available in each apartment. Laundry facilities are located in the A-section. There are four single apartments and six 2-person apartments in this apartment complex.
Weinbach Apartments
Weinbach apartments are located at 216 South Weinbach Avenue. These cozy apartments have access to a small picnic area with a basketball court. Laundry facilities are located on the lower level. A total of 18 single apartments are available.
Office Phone
812-488-2956

Office Email
residencelife@evansville.edu

Office Location
Student Life Center, Second Floor, Ridgway University Center