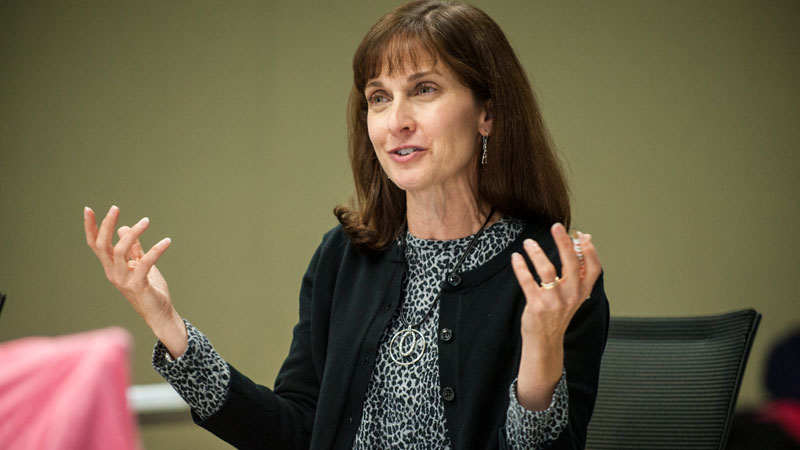 Management
Associate Professor Laura Dwyer is among the talented faculty in UE's Schroeder School of Business helping mentor students in the management major.
Management
Bachelor of Science in Business Administration, Management Major
The management major in the Schroeder School of Business develops students' understanding of the complex issues involved with managing people and technology in a global business environment. The emphasis is on conceptual knowledge as well as its practical application for improving organizational effectiveness. Management majors engage with faculty in exploring topics ranging from human resource management, leadership, and decision making to management information systems and production/operations management.
The management program prepares students for a wide range of professional career opportunities in the business field. Recent graduates are working with employers as diverse as Disney, Hewlett-Packard, Old National Bank, Cisco Systems, Frito Lay North America among others. Other management majors pursue MBAs in strong graduate programs and one graduate has enrolled in the Indiana University School of Law. Management majors have a 98 percent placement rate within the Schroeder School of Business.
This degree requires completion of 124 semester hours, allocated as follows:
General Education – 41 hours: including Quantitative Methods 227; Management 497
Common Core – 45 hours: The purpose of the common core is to provide students with careful preparation in the fundamental tools of decision making and leadership. All management majors complete the following courses: Accounting 210, 211; Business 398, 400; Economics 101, 102; Experiential Education 90; Finance 361; Interdisciplinary 150; Law 201; Management 310, 311, 331, 377; Marketing 325; Mathematics 134 or higher; Software Application 110.
Management Major – 18 hours: Management 306; five or more courses selected from Management 380*, 395*, 402, 412, 430, 445, 450, 455; may substitute one course selected from Communication 380, 382, 383, 388. (*Only one independent study or special topics course will be counted in the major.)
Electives – 20 hours