Mechanical Engineering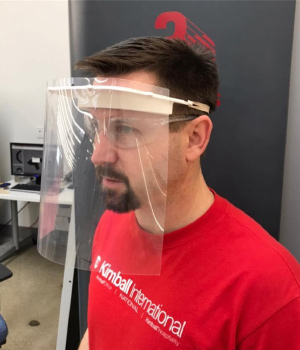 Class Year: 1996
Engineer Alex Mlsna '96, PE (professional engineer), is a technical services manager in the Research and Development department of Kimball International, where he oversees progress on new projects, sustainability, automation, regulatory compliance, and other areas. For 70 years, the Jasper, Indiana-based company has created design-driven furnishings for the commercial office, hospitality, health, and education markets.
As the COVID-19 pandemic escalated this spring and many businesses were impacted by shelter in place orders, Kimball leveraged its core capabilities to produce new products. This included their Quickship for Care collection as well as personal protective equipment (PPE) for their employees and community healthcare providers.
"Our company instituted a work from home program for those that could do so," Mlsna said. "For myself and the rest of the Research and Development team, with the technologies we were working with, we couldn't take that home. Our first thought was 'How can we help our communities?'"
A large portion of Mlsna's work comes from 3D printing, a technology first used in the 1980s that has seen widespread adoption over the past decade. This method allows manufacturers to create virtually any three-dimensional object, with materials ranging from plastics to metal, resin, nylon, and much more.
"Kimball had the idea to use our printers to create plastic face shields for healthcare workers," Mlsna said. "We found inspiration from creative designs for making these shields, and then we designed our own version and began printing custom designs that could be cleaned and reused easily. From there, we worked with partners across our sales network and other community contacts to get them in the hands of hospitals, school districts, and other healthcare providers.
Kimball produced some 15,000 face shields over the spring and summer months.
While 2020 has proven a challenging year across every industry imaginable, Mlsna credits his UE education as a key factor in his ability to adapt to the ever-changing situation. Mlsna represents a UE Changemaker – someone who desires positive change in the world and makes it happen.
The University of Evansville encourages and fosters the changemaking spirit in a variety of ways – encouraging students to look at the world around them and ask "What if?" UE encourages all students to be changemakers who seek out creative and effective ways to solve the problems they see in both the community and world, making it a better place for everyone.
"Because of UE and my engineering degree, I was exposed to plenty of hands-on work," Mlsna said. "My UE education taught me to embrace new technologies and take risks, as well as how to collaborate with a wide variety of groups to get the job done."