The University of Evansville is fortunate to have an active Board of Trustees comprised of alumni-elected and student-elected members, as well as, corporate and community leaders. The board meets three times per year. If you wish to provide feedback to the Trustees, you may send an email message to trustees@evansville.edu.
Life Trustees
Honorary Trustees

Dr. Robert L. Bowen
(H'11)
Indianapolis, Indiana
Honorary Trustee since 2016
View Biography

Dr. Robert L. Bowen is founder and chairman of Bowen Engineering Corporation, a multi-market company specializing in water and wastewater treatment plants and energy utility construction. Bowen earned a Bachelor of Science degree in civil engineering from Purdue University and completed the Harvard Business School's Owner, President, Manager Program. He is a founder and instructor of the Associated General Contractors Project Management Institute. Early in his career, he worked as a project manager at W.M. Lyles Construction Company in California before returning to Indiana to start his own company.
Bowen and his wife generously support education and have built a legacy advancing education and the promotion of science. The Bowen Foundation was established to provide scholarships to minority students in Indianapolis to pursue a secondary education. Since the foundation's inception, more than $3.0 million has been awarded to more than 800 students. The Bowens and former Purdue University President Martin Jischke founded Science Bound, a program designed to mentor student in the Indianapolis Public Schools to encourage them to pursue careers in science and technical fields. Participants of this program have an opportunity to earn a full-tuition scholarship to Purdue University. The Bowens also funded the Robert L. and Terry L. Bowen High-Scale Performance Civil Engineering Laboratory at Purdue which allows civil engineering to test structures like bridges and buildings while focusing on making construction materials more durable, safer, and earthquake resistant. In addition, the Bowens have provided financial resources for the Bowen Engineering Laboratories at the University of Evansville for use by the civil and mechanical engineering programs.
Bowen has received numerous commendations for his commitment to his community and the professional development of young people including the Big Brother Big Sisters of Central Indiana Sablosky Mentor Award, Outstanding Philanthropist Award by the Indiana Chapter of the Association of Fundraising Professionals, and an Honorary Doctorate of Engineering from Purdue University and Honorary Doctorate of Business Administration from the University of Evansville. He was inducted into the Indianapolis Public Schools Hall of Fame and recognized as a Distinguished Member of the American Society of Construction Engineers (ASCE) as well as the ASCE Outstanding Lifetime Achievement Award in Construction.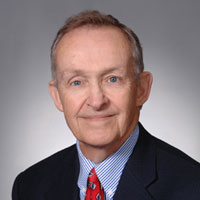 Mr. Keith Lochmueller
Evansville, Indiana
Honorary Trustee since 2014
View Biography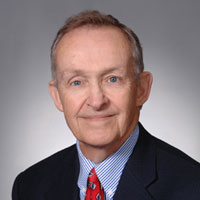 Mr. Keith Lochmueller is a founding partner of Lochmueller Group (formerly Bernardin Lochmueller & Associates) and serves as the Chairman of the Board and CEO. Previously, he served as President/CEO for over 25 years. He continues to take a hands-on approach to managing the firm, reviewing projects for progress and focusing attention on critical issues. Completion of work ahead of deadlines is mandatory. In addition to his leadership duties, he provides expertise in traffic engineering and land use and transportation planning.
Lochmueller is conversant in all aspects of transportation land use planning. He is familiar with the need for development concurrent with associated impacts on the natural and human environment, and can critically weighs issues of merit. Issues may be geological, historical, archaeological, ecological or public concern issues, each of which is discussed and adequately covered under his guidance. He constantly keeps abreast of new information in planning via communication with authorities in the field and participating in courses from FHWA, UMTA, and universities in environmental analysis, traffic modeling, highway and transit planning, and traffic.
In 1981, Lochmueller became interested in the concept of pavement asset management. In addition to working with INDOT to develop the first computerized inventory all of the state's roads, he set out to develop a cost-effective system tailored to the specific needs of cities and counties that would help them make the most of taxpayer dollars.
Prior to founding Lochmueller Group, Lochmueller spent 6 years as the Executive Director of the Evansville Metropolitan Planning Organization. In this role, he was responsible for the 3C Transportation Process. Under his direction, a Transportation Plan was developed and approved. He was recognized by FHWA as an innovator in the Transportation System Management area.
Lochmueller also spent 14 years in responsible planning positions with the Evansville-Vanderburgh County Area Plan Commission and the Southwestern Indiana Regional Council of Governments, as well as serving as the Chief Transportation Planner for the Southwestern Indiana Regional Council of Governments.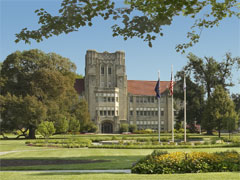 Mr. Kenneth Maikranz
('70)
Princeton, Indiana
Honorary trustee since 2017
View Biography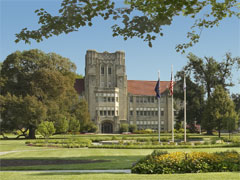 Mr. Kenneth Maikranz earned a Bachelor of Science in Business Administration from the University of Evansville in 1970. He owns and operates Colonial Assisted Living in Vincennes, Indiana, and Henderson, Kentucky. He's a longtime member of the Purple Aces Club and President's Club and was a top donor to the UEnvision Capital Campaign. The walkway located on the west side of the Fifth Third Practice Facility is named "Maikranz Family Walkway," and the Armory is named the "Maikranz Family Indoor Facility" in recognition of the various generous contributions made by the Maikranz Family.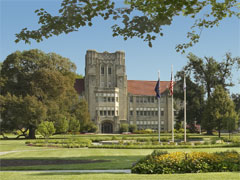 Ms. Stephanie Olmsted
New York, New York
Honorary trustee since 2021


Dr. Melvin M. Peterson
('H 91 & '14)
Evansville, Indiana
Honorary trustee since 1999
View Biography

Dr. Melvin M. Peterson retired from Chevron Oil Corporation, San Francisco, California, in 1972 where he was a financial advisor. A native of Omaha, Nebraska, he served four years in the United States Navy and earned a Bachelor of Science in business administration from the University of San Francisco, a Master of Arts in English literature from the California State University, and a Master of Arts in history from Indiana State University.
Peterson was president of the University of Evansville Samuel Johnson Society, Harlaxton Society, and Academy of Arts and Sciences. In 1991, the UE Alumni Association recognized him with a Samuel Orr Honorary Alumnus; in 2014, he was awarded honorary degree, Doctor of Humane Letters. Through generous gifts to the University, he established the Melvin Peterson Endowed Chair in Literature and Writing and the Melvin Peterson Art Gallery.

Mrs. Virginia Schroeder (H'92)
Evansville, Indiana
Honorary trustee since 2011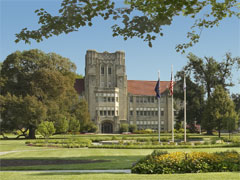 Dr. Michael Woodard
Atlanta, Georgia
Honorary trustee since 2021

Office Phone
1-833-BeAnAce (1-833-232-6223)

Office Email
uerelations@evansville.edu

Office Location
1800 Lincoln Ave. Evansville Indiana 47722