Anna Jean (Stratman) Hallmann
Environmental Administration and Applied Biology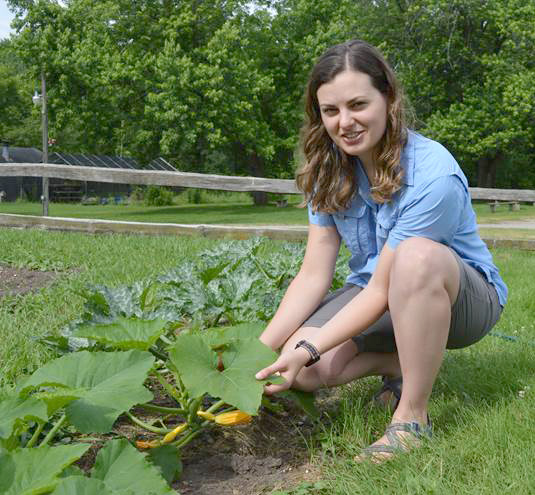 Class Year: 2019
Grants Specialist, Riveredge Nature Center - WI
After I performed undergraduate research on monarchs and milkweed with Dr. H, I dreamed of sharing my findings and my passion for native plant ecology to make a difference in my community. The dedicated UE teachers and staff, especially Dr. H, empowered my vision by enabling me to create my own ChangeLab class, which grew and donated over a thousand milkweed and native plants for monarchs and other critical pollinators. This leadership opportunity cultivated me into the person I am today, still sharing my passion for plants in my local community while I write conservation and education grants for an environmental nonprofit in Wisconsin.
My advice for current UE students is to take advantage of all the amazing opportunities UE has to offer, from undergraduate research to studying abroad to the ChangeLab classes. You never know what might spark your interest or what might change your entire career path. All those lab reports and research papers are important, but it's the hands-on, experiential learning opportunities that will profoundly change what you want to do with your life.
While I was at UE, I never saw my future in the lab or even the field, but being in a world of academics, I couldn't see any alternative career paths in environmental science. However, thanks to the support of my family and my UE advisors, I found my perfect fit in an Environmental Conservation MS at Madison, Wisconsin, where I learned about grant writing, nonprofit management, GIS, and even environmental planning.
I had no idea what I was going to do with any of these skills until I finally landed my dream job as a grant writer for a nature center. Looking back, I'm grateful for all those tedious lab reports in Dr. H's classes, all the frustrating chemistry tests, and even exhaustingly long lists of botany terms to learn for Dr. Powell. Of course, writing is my main job, but without my insight into all of these fields, I wouldn't be able to build compelling narratives to encourage grantees to support endeavors to graze goats on invasive species or projects to perform water quality analyses on the Milwaukee River. As well, I never know when I might need to discuss the phenology of the native fauna and flora while I lead prospective donors on a spontaneous tour through the nature center. In short, UE prepared me for a wide variety of careers I had no idea even existed while I was in Evansville.
Although I have nothing but great things to say about my Masters experience in Madison, WI, I dearly missed the small class sizes at UE. At larger institutions, undergraduate students almost never have the opportunity to meet their professors. Research is the top priority, and so teachers are forced to spend their time turning out as many publications as possible instead of spending their time investing in their students. Although this is advantageous for graduate students who are required to publish for their degrees, for undergraduates, this is not the greatest learning environment. At UE, not only do the teachers know who their students are, but they invest in their education and their futures. Without those conversations in the BioTea Room, or those one-on-one conversations with my advisors, I probably would have pursued a more traditional academic graduate degree instead of venturing into the professional side of environmental studies. The relationships I made at UE really changed my trajectory and opened new doors in my career for me.