Data Science and Statistics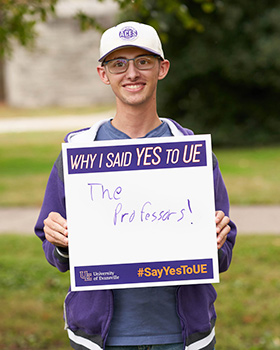 Class Year: 2023
Ben VanderWall is passionate about math and soccer. And at the University of Evansville, he's combining both with a major goal in mind.
"I've always liked math and statistics, and in high school I learned how much of a role statistics plays in soccer," Ben said. "Now that I'm pursuing this area of study, I'm really excited to start a career with the sport."
Ben's mother is a UE alum, so the University was always a place he considered attending. During his college search he visited UE and attended Road Trip, a weekend-long event for admitted students to experience life on campus. Ben quickly made friends at this event and instantly felt at home.
"Living close to a large state university, I appreciated the small campus and knowing where everything was located," Ben said. "Harlaxton was also a major contribution to my decision to attend UE."
Knowing he wanted to focus on soccer with his studies, Ben wanted to attend a university with Division I athletics.
"UE has given me the benefit of a close-knit campus while incorporating competitive D1 athletics that are typically seen at larger schools," he said.
Since becoming an Ace, Ben has really appreciated the small class sizes and help from his professors. He said they are "easy to approach" and "take the time to help us one-on-one in our classes." Even during the pandemic where challenges arose, Ben felt supported by each professor.
"I knew we would all get through COVID-19 together, one way or another," Ben said. "My professors were so understanding through it all and constantly adapted to help us succeed."
The Data Science and Statistics faculty also email several internship opportunities each week, and Ben plans to take advantage of the opportunity to gain real-world experience while completing his degree. He also plans to study abroad for one semester at Harlaxton College before graduating.
"UE is in a unique middle ground," Ben said. "It's a small campus located in a city, so there are several opportunities for students. Here, you get the benefit of small class sizes and a close-knit campus while taking advantage of the entertainment, culture, and networking opportunities within Evansville."