Physician Assistant Science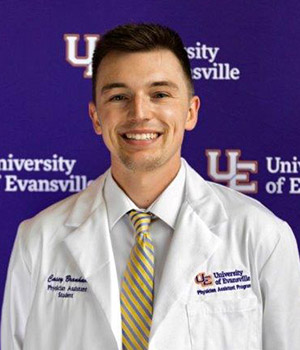 Hometown: Pendleton, Indiana
What made you want to be a physician assistant (PA)?
I had a fantastic experience volunteering at a local emergency department during my senior year of high school. By the time I left for college, I knew I wanted to pursue a career in medicine, I but didn't know which role I would fit into best. I knew I wanted to be a PA after working late shifts in an emergency department where multiple PAs took time to educate and encourage me to learn more about the PA role.
Why UEPA?
While applying to PA schools, it was obvious that UEPA was unique. Instead of being just another set of statistics, the faculty at UEPA took the time to get to know me and my story. UEPA is invested in my journey which made the decision to continue my PA education here a very easy one!
What is your favorite part of PA School?
Building meaningful relationships with my colleagues that I know will last a lifetime. I have really enjoyed the grind of learning medicine with a group of highly intelligent and dedicated individuals who all share a common goal.
Did you do anything that really helped you prepare for PA school?
Prior to PA school, I had work experience in an emergency department, inpatient orthopedic setting, and an outpatient allergy/immunology clinic. I feel like these different experiences allowed me to see medicine in a comprehensive fashion which has made PA school extremely interesting and relatable. I also know which areas of medicine I prefer, and which settings might not fit my particular interests!