Visual Communications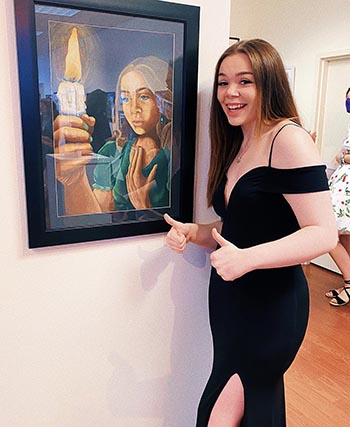 Hometown: Evansville, Indiana
Art Degree with a Side of Encouragement
Chloe Ferguson, from Evansville, is expected to graduate from the University of Evansville in 2024 with a degree in visual communications and a minor in communications. After graduation, Chloe has plans to move to Louisville, Kentucky, to work as a graphic designer. "I'm only a sophomore, but I have plans for internships and future career opportunities!"
When asked why she chose to attend UE, Chloe gave praise to the scholarship opportunities and "tight knit community where professors and students can be more one-on-one!" She picked her major based on a more personal experience. "My mother was a graphic designer, so I started off at the young age of 8 years old with my first laptop." Despite Chloe's mother passing away before her sophomore year, Chloe said, "She continues to inspire me in my work everyday."
Chloe is involved in multiple organizations on campus, including Alpha Omicron Pi where she is the director of lifetime engagement. She is proud to be able to work with Greek life and other organizations on campus in order to give back to the community. Chloe is also proud to have won a Merit Award her freshman year at UE's Melvin Peterson Gallery.
When asked about her favorite classes and professors, Chloe gave high praise to each of her professors. "They have all encouraged me to push myself past my artistic comfort zone into creating wonderful work I am proud of. They help me see things from a different point of view, have all helped me with career/internship opportunities, and have helped me with bettering my academic career. I'm so thankful for them!"
Chloe believes that UE is set apart from other universities because it is a smaller campus where students and professors are able to create better relationships among themselves. "If you're looking for a homey feeling on campus, UE is the best place." Chloe loves that she can grow great friendships, find private places to study, support local businesses, and give back to the Evansville community.