Attended Gettysburg College for undergraduate degree.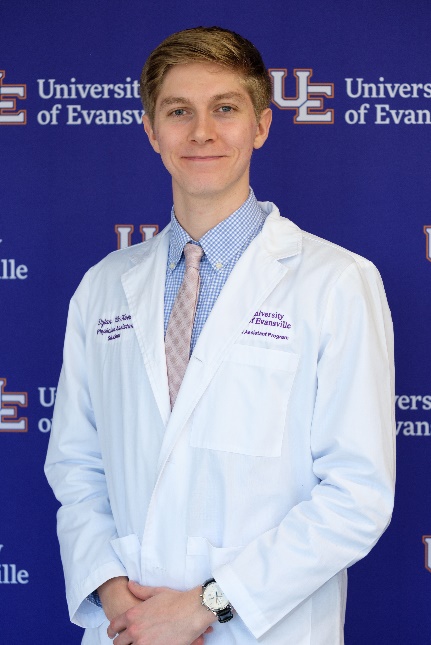 Hometown: Buckingham, Pennsylvania
What made you want to be a PA?
What made me want to become a PA was seeing how important their role on a medical team is. I was luckily enough to both work with and shadow PAs in many different specialties, from emergency medicine to orthopedic surgery and intensive care. I watched them diagnose and treat illnesses, assist in surgeries, and work with nurses, physicians, and patient care technicians to provide great care to patients. Seeing how PAs listen to, advocate for, and work with patients is really what made me pursue this career. Another big decider for me to pursue PA school is the flexibility that the profession affords. Being able to switch fields and settings and getting to experience many different specialties while having a high level of autonomy in any of them, is attractive to me. The last aspect that cemented me wanting to become a PA is the work-life balance. I am passionate about traveling, running, and spending time with my family and friends, and I knew that this path would allow me to keep all those close to me.
Why UEPA? Or what makes UEPA different from other PA programs?
What makes UEPA different from other programs is the connection we have with the faculty and the commitment we have to becoming contributing members of a healthcare team. The faculty are incredibly supportive of us and are always available to meet with us individually for anything we need. The program also includes learning and practice with other programs throughout the didactic year. We have supplemental learning with and from CRNA, PT, surgical technology and other students. Being able to work with other health care professionals before entering the workforce is something that will benefit us greatly. The strength and number of clinical rotation sites is something else that made UEPA stand out to me. Our clinical team does an incredible job placing us with high quality providers at top tier facilities.
What do you find is your biggest challenge in being a PA student?
My biggest challenge in being a PA student is believing in myself. When you're learning so much information, it's easy to feel like you're behind or struggling when in reality you are doing just fine. Medicine is ever evolving and increasing in complexity, but with the support of my classmates and the UEPA faculty, I always know I'm learning everything that I can and getting closer each day to becoming a successful provider.
Did you do anything that really helped you prepare for PA school?
I think the two things that helped me prepare the most for PA school were shadowing in multiple specialties, and watching PA YouTube videos. Shadowing is a great way to learn about the profession because you aren't working or being paid to do anything, so you can put 100% of your effort into seeing what it is really like to be a PA.
What is your best advice for anyone working on the CASPA application?
My best advice for anyone working on CASPA is to work on it in chunks. It's overwhelming to look at because of how much goes into it, but just remember that you are giving your life story and telling PA programs why you deserve a spot in their program, so you want to portray your best self possible. Don't rush through it, be genuine and take the time to make sure anything that you want programs to know about you is in your application.
If you could go back and give yourself one piece of advice, what would it be?
If I could go back and give myself one piece of advice it would be prioritize what you enjoy. Preparing for, applying for, and being in PA school is no easy task, so it is important to have other activities to keep you grounded through it all.
What is the one thing about PA school you weren't prepared for?
One thing about PA school I wasn't prepared for is the speed. You learn a lot of information in not a lot of time, so don't fall behind!
How hard is it…really???
It's not easy, but if it's really what you want to do, you find a way to be successful and get done what you need to get done.
What is your favorite class?
Anatomy
What is a typical day like in didactic year?
Each semester, and sometimes even each week, is different. A typical day starts with class at 8 or 9 and lasts until anywhere from noon until 4 or 5. Most days have an hour or two of breaks built in which gives plenty of time to eat, study, or just hang out and relax.
What is your favorite part of PA School?
My favorite part of PA school is lab time. Labs are much more hands-on and help to show that all of the classroom learning comes together and has practical applications.
What is your best advice for the interview process?
My best advice for the interview process is to prepare but don't over-prepare. You want to be ready for any type of question that can be asked, but there comes a point where it's too much. As corny as it sounds, just relax, be yourself, and show off why you would be a good fit for the program. And don't forget to ask any questions you have, as long as it's at the right time.
How do you balance school and other aspects of your life?

The best way I have found to balance school and other aspects of my life is with effective planning. You need to designate certain times to do things other than work. It doesn't matter if this is the same time each day or different times, but it is important to plan time away from studying.