Attended University of Arizona for undergraduate degree.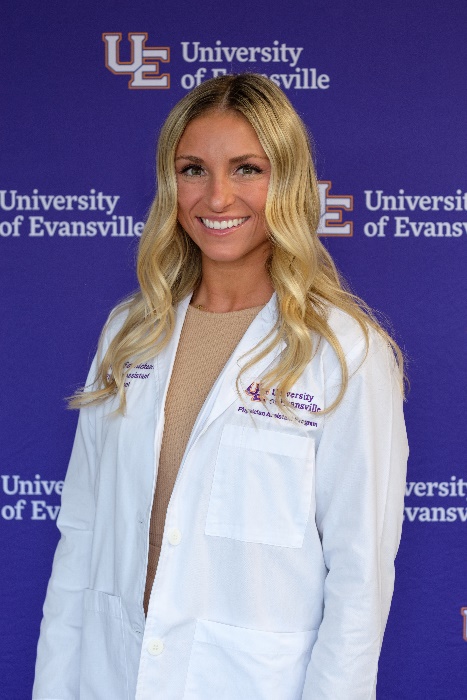 Hometown: Fort Wayne, Indiana
What made you want to be a PA?
I experienced many injuries throughout my many years as an elite gymnast and college athlete, which led me to discover the PA profession as an option in health care. I loved the idea that I could be a provider in any specialty.
Why UEPA? Or what makes UEPA different from other PA programs?
I was really drawn to the UEPA program because of the welcoming atmosphere the faculty promoted before I was even a student. The application and interview process for PA school can be very nerve wracking.
What do you find is your biggest challenge in being a PA student?
I think the hardest thing for me was figuring out what study routine worked for me. It is important to find the tools and schedule that helps you to be successful (and it takes a bit of trial and error).
Did you do anything that really helped you prepare for PA school?
Balancing college athletics with academics helped to give me the discipline and organizational skills to be successful in PA school. But once you are accepted to a PA program, do not try to study before starting the program. Trust me, you don't need to do that, you will have plenty of time to study once you begin! Go on vacation, spend time with family and friends. Relax!
What is your best advice for anyone working on the CASPA application?
Get it done early. Ask a mentor to proofread it for you. Write your personal statement about something that is unique to yourself and your life.
If you could go back and give yourself one piece of advice, what would it be?
The amount of information, the speed you need to learn, and the number of exams (one after another) with no break in between each is very challenging. There actually is a learning curve for getting better at it. So, don't get discouraged if you aren't perfect from day one.
What is the one thing about PA school you weren't prepared for?
I never expected PA school to bring me some lifelong friends. The demands of PA school can be extremely stressful. It can make you feel isolated from the outside world which is very tough on all relationships. Having classmates that you can vent to and spend time with has gotten me through a lot.
How hard is it…really???
It is difficult, I'm not going to lie. It is harder than I imagined, but it is doable. It helps to know that you are not alone.
What is your favorite class?
My favorite class was clinical skills because you get to start hands-on procedures. Knowing what a wide range of skills you have in your pocket for clinical is very exciting and encouraging.
What is a typical day like in didactic year?
I like to start my day early. I wake up, study a bit before I head to the gym to work out. Then it's off to class for a full day and back home for studying, dinner, and more studying. I like to go to sleep early, but I'll admit, the PA exam schedule required many late nights of studying.
What is your favorite part of PA School?
My favorite part of PA school are clinical rotations. Working with other providers, learning and discovering new passions in specialties you thought you would never have considered is a lot of fun.
What is your best advice for the interview process?
I know everyone says this, but just be yourself. Your application and experience got you to this point. Now you just need to show the committee who you are as a person. Be professional and friendly, but just be yourself!
How do you balance school and other aspects of your life?
I wake up early to make sure I get done what needs to get done - like studying or assignments. I focus on one thing at a time, so I don't get overwhelmed. Then I make sure to make time to take care of myself by doing things I love with undivided attention like working out or hanging out with friends. I do take one day of the weekend without doing any school to make sure I am recharged for the next week. When/if you get a break from school - take it!!
What is your favorite thing about the clinical year?
I had the opportunity to do a few away rotations. I loved getting to experience with amazing preceptors in different areas of the country. I also love getting to do a rotation in a specialty of my choice along with all the other core rotations.
What specialty do you want to pursue? Why?
I truly have not made a decision on my specialty yet. I really love orthopedics, dermatology, and surgery. I even really liked OB/GYN and pediatrics (which surprised me!). I'll just say, I know which specialties are not for me.
What is a typical day like in clinical year?
Every clinical rotation is different, but I was very lucky to have preceptors that were great teachers and involved me in every aspect of patient care. Most of the time I would wake up early to get about an hour of studying in before starting the workday. Often times you work Mon-Fri 8-5, focus on applying your knowledge to real life scenarios. Then relax and recharge when I get home. One day of the weekend I take a few hours to study for the End of Rotation exam, do practice questions, or work on assignments.