Physician Assistant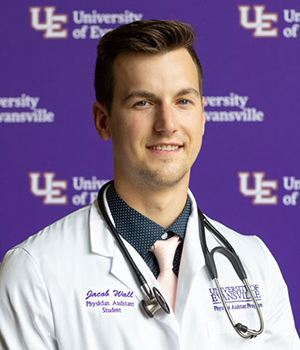 Hometown: Camby, Indiana
Undergrad/Master's degree/ College attended: B.S. in Human Biology - Indiana Universit
What made you want to be a PA?
I've always been interested in medicine, however I was never sure of which medical profession would suit me. Through research and shadowing I learned that the PA profession strikes the perfect balance for me between work/family life, specialty options, and level of responsibility. I was intrigued by the lateral mobility and the level of autonomy PA's are given while still working in a collaborative fashion.
Why UEPA?
The faculty and the Stone center are the two main reasons I chose UEPA. During my interview it was easy to tell that the Stone center would be a perfect place to learn alongside other health professions from multiple universities. Adding to that, the faculty members really work to create a family-like environment within the program. They strive to see every student succeed and are easy to approach if you are struggling, have questions, or just need to talk personally rather than professionally.
What is your favorite class?
As someone who is interested in procedures and working with my hands, Clinical Skills and History & Physical Exam are two classes that get me up out of my seat and allow me to do just that.
Did you do anything that really helped you prepare for PA School?
Prior to PA school I worked as an EMT caring for numerous patients of all ages and from many different backgrounds. With this type of work I had a load of one on one patient interaction. These experiences will help me especially during clinical rotations once I start seeing and treating patients.
What is the best study skill you can recommend for a PA student?
Start studying early. There is a lot of material and many exams in PA school. So it is imperative to get ahead of the game. Exams will be very challenging if you try to cram the few nights before an exam. Once you're in the middle of a semester it can be very hard to catch up on material if you fall behind.
What is your best advice for the interview process?
Be yourself and try not to memorize answers you think interviewers want to hear. Once the interview starts your mind will likely go blank and you will be left answering questions using your true personality and knowledge, which is what the interview committee wants to see. This is important because it helps determine whether you will actually be a good fit in the program and whether the program is right for you.