Exercise Science, Pre-Physical Therapy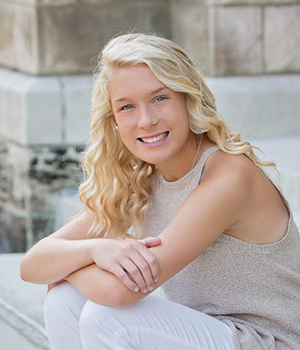 Class Year: 2023
Hometown: Evansville, Indiana
Why you chose UE?
As an Evansville native, I was fairly confident that I wanted to move away for college; however, everything changed after visiting UE. I immediately loved the atmosphere of the campus and the faculty within my major. After learning that I received direct entry into the Doctor of Physical Therapy program, my decision was practically made. Through my time at UE so far, I have become even happier with my decision and look forward to the opportunity to tell others about the great opportunities at UE.
What is your favorite thing about UE?
The wonderful people that comprise the UE community – professors, friends, teammates, coaches, and classmates – are undoubtedly my favorite part of my college experience thus far. The endless support and opportunities are a nice reminder of how thankful I am to call myself a student at the University of Evansville.
Any other helpful information about your major or any advice, remembering what it was like to go through the college search?
When reminiscing on my college search, I remember the stress, never-ending deadlines, and uncertainty of what the future will hold. It may be a very overwhelming time; however, the one thing that helped me feel confident in my decision was doing my research. Whether that meant talking to people about my future or job shadowing numerous positions in the healthcare field, it was so helpful to figure out what I wanted to study. After narrowing down my focus, I was able to better find schools and programs that would help me do that. Even though it was a tedious process, it ultimately helped me feel confident in my decision and excited for the future.