Physician Assistant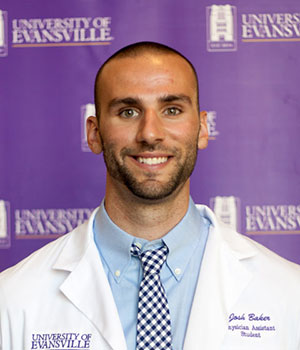 Hometown: Sussex, Wisconsin
Undergrad/Master's degree/ College attended: Jacksonville University- B.S. Kinesiology
What made you want to be a PA?
After sustaining many injuries from sports growing up, there was always someone in the medical field there to help me. I want to be a PA to be able to be there one day for people that are in spots I once was and give them care that can get them back to living their lives.
Why UEPA? Or what makes UEPA different than other PA Programs?
The "it factor" for me is a combination of 2 things that make the program stand out. First, the faculty in that they will go out of their way no matter what to make sure that you succeed. The second is the smaller class size. This will be growing slightly in the next couple of years, but coming to class everyday surrounded by only 20 students who want the same thing as you, pushes you to be the best you can be. But besides that, you get really close to your peers and they don't only push you to be better, but they are there to help when you need it too.
What was your major in undergrad and did it prepare you for PA School?
My major in undergrad was kinesiology. I would say that it did prepare me for PA school in a way that is different than most other majors. A lot of other students come in with more science based backgrounds, which I also got in kinesiology, but I got to study a lot on how the body works and moves which I found very applicable to many aspects of PA school so far.
What specialty do you want to pursue? Why?
I really want to go into orthopedics. Going back to what I said above, I suffered a lot of injuries in sports growing up. Every time I went to see a provider, it seemed to be a PA. I want to go into ortho to be there for those kids trying to get back into sports or even the older adult patients who are just trying to regain activities of daily living.