Environmental Science and Biology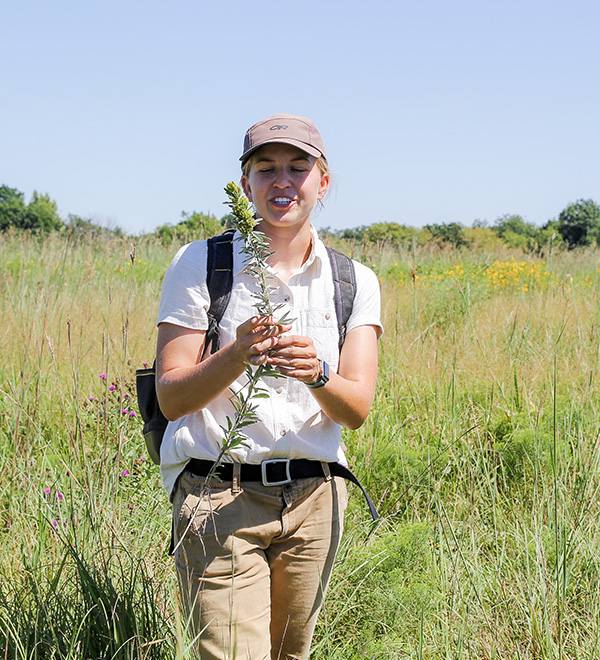 Class Year: 2020
Conservationist: Powell Gardens, Kansas City's Botanical Garden
I have always enjoyed spending time in and learning more about nature. Going into college I knew I wanted to further study the environment, but I was unsure how my degree would transition to a career. Through my undergraduate education at UE, I developed a foundation of the subject and an understanding of how to make an impact in environmental conservation. My UE education enabled me to turn my passion into a career because of the strong curriculum and numerous opportunities for diverse learning experiences.
Today, I rely on the multidisciplinary knowledge and practical skills I learned at UE as I lead ecological restoration of grasslands in the greater Kansas City region. The applicability of course content and experiences make the program at UE stand apart. I can plan and execute ecological restoration projects effectively, recognizing the resources needed and perspectives to consider because of my undergraduate experience.
For example, I learned how to propagate native plants as a part of a native plant garden installation project at Oak Hill Cemetery & Arboretum. While conducting undergraduate research regarding oviposition preference of monarch butterflies among milkweed species in southern Indiana with Dr. Hochwender and fellow classmate Anna Jean Stratman, I learned the value of partnerships working with naturalist in the community to compare the growth variation of milkweed in urban versus rural settings. As a steward of the native plant garden at UE, I was able to engage with native plants right on campus and develop field ID skills.
For one of my internship experiences, I had the opportunity to work with the environmental education team at Wesselman Woods, learning the importance of outreach and strategies on how to engage youth with the natural world. Most of all, while at UE I learned the importance of asking questions. The experiences I had while at UE affect my career daily.
I encourage students to connect with the incredible faculty, staff, and overall community at UE, which are the strong foundation for experiential learning.