Physician Assistant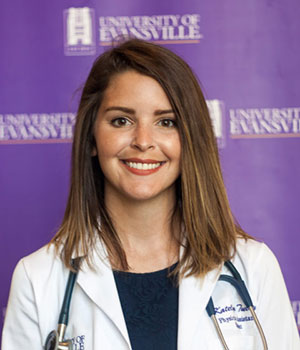 Hometown: Evansville, Indiana
Undergrad/Master's degree/ College attended: BS in Biology, BA in Spanish Studies
What made you want to be a PA?
It wasn't until after I had finished my ungraduated schooling when I decided I wanted to be a PA. I really did not understand what a PA was until I heard about UE introducing the program, and I found it fitted perfectly with the personal goals I had as a medical provider.
Why UEPA? Or what makes UEPA different than other PA Programs?
Originally, I applied UE because I wanted the opportunity to stay in my hometown and really desired to help shape this program as a member of the first class. I chose to attend because of the unique approaches and outlooks Dr. Roscoe and the other faculty here have. As a UEPA student, you're a part of a team, and as a team, you work together to provide the best possible care for your patients.
What was your major in undergrad and did it prepare you for PA School?
The core required classes definitely helped prepare me for PA school, but I actually focused most of my Biology degree in environmental studies. I can't say that or the Spanish has helped me too much (yet).
What do you find is your biggest challenge in being a PA student?
The biggest challenge is trying to find the balance between your school life and your personal life, especially around the time of finals. It's so easy to get caught up in feeling like you need to study that you stop taking care of yourself. Try to make time for yourself and take advantage of the breaks that you do have.
How hard is it…really?
I think we have fantastic professors who are able to explain the difficult material in a manner that makes sense and are always available for additional help if necessary, so I think what bogs us down and makes the program difficult is the amount of work. Learning as much as you possibly can about all of medicine in two and a half years is not supposed to be easy, but if you use your resources, help each other, and stay focused, you'll make it!