Exercise Science with Psychology Minor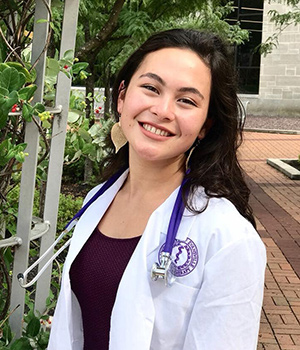 Class Year: 2021
Hometown: Germantown, Tennessee
DPT Class of 2021—Class Representative
What is your hometown?
Germantown, TN (Memphis area)
Why did you choose UE for your DPT education?
I chose UE primarily for its Direct Entry track. I also knew I wanted a small school for undergrad, and UE's DPT program stood out to me for how highly its graduates are spoken of.
What has been your favorite PT class so far?
Ortho for sure; that class is where everything finally started coming together for me and I started truly falling in love with PT. A close second, though, is Neurobiology, not because of the content but because of Dr. Pitt. That man is one of the oddest I've ever met, and I enjoyed his lectures. Each and everyone was an experience.
How is PT school different from your undergraduate education?
There are obvious differences: the amount and difficulty of the material are greater, the time commitment is longer, the stakes feel higher because this is the information we'll need to retain all our lives, not just forget after the semester is over. However, what I appreciate about PT school versus undergrad is that I get to spend time with the same cohort of people every day and that we are all pursuing the same goal. I love my class and feel that we bring a certain work ethic and willingness to go the extra mile to build connections between people. PT school has been pretty overwhelming so far, but having my class by my side as we move through the same struggles has been a bonding experience that will always be part of each of us.
What do you see as the strengths of the UE Physical Therapy Program?
Besides the new Stone Center? The professors. Even though each professor has their own busy life, often including research, clinical practice, additional schooling, and family time, they find room to care deeply for us and invest in us. I truly appreciate that about them.
What advice do you have for high school students who are right now selecting a university for Pre-PT?
The best thing I did in my college application process was to apply for a direct entry program. I cannot stress this enough: if you know now that you want to go to PT school after undergrad, get in a direct entry program. Your life will be so much easier and you will avoid so much stress in approximately 3-4 years.
What advice do you give to incoming PT students, starting this summer?
Remember, you've already made it to PT school, so your grades are now not as important as thoroughly learning the material. Instead of measuring yourself by your GPA, turn your focus to actual understanding. This advice will be hard to remember if/when you get your first failing grade back, but try to hold onto it. You can fail a few times and you will still very much survive and progress.
This summer is different from previous summers, as it'll be online and you won't necessarily be with your classmates right away. Hang in there, guys, no matter what. Soon you'll get to see your class in person, and you'll realize how much each others' presence motivates you. It's a unique challenge for you guys, but I feel certain you can rise to the occasion.