Physician Assistant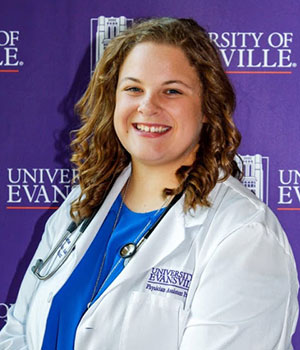 Hometown: Henderson, Kentucky
Undergrad/Master's degree/ College attended: Bachelor of Science in Human Nutrition, University of Kentucky
What made you want to be a PA?
I knew I wanted to go into the health care field when I first began as a freshman at UK, but I didn't know exactly what career. I met a PA during my first semester and she described to me what a PA does. I knew that was the career for me. I love the fact that being a PA gives you the opportunity to switch specialties and the schedule also gives you time to devote to your family and personal life.
Why UEPA? Or what makes UEPA different than other PA Programs?
I am from this area and I wanted to stay close to my family and friends. The culture that UEPA has established also drew me to this program. I love the family atmosphere and that you are able to go to anyone if you need any sort of help.
What is your favorite part of PA School?
My favorite part of PA school is the friends I've made. The admission committee did a great job at selecting a variety of students who are going to make great PAs. I know I've made friends for life.
What is your favorite class?
Clinical medicine – It combines everything we have learned and associates it with a disease state. I believe this is the class that will help me in my rotations/career most.
What specialty do you want to pursue? Why?
Pediatrics – I am a big kid at heart. I love kids and would love the opportunity to help treat any issues they may have and make any health care experience they have as positive as possible.