Marketing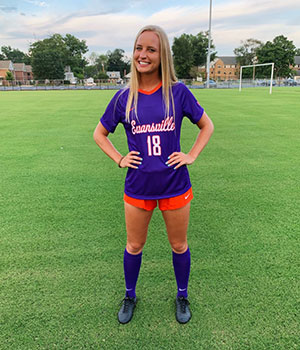 Class Year: 2020
Hometown: Mount Prospect, Illinois
How did you find out about the University of Evansville?
I discovered the University of Evansville through my recruiting process to play soccer at a collegiate level.
What made you decide on UE as your college choice?
I chose the University of Evansville as my college choice because of its liberal arts education, the opportunity to play soccer at a Division I level, and its family-like community.
Tell us about your involvement on campus and any special opportunities or projects you have found through UE
Through being a student-athlete, I have been able to strengthen my communication skills and gain a deeper understanding of teamwork, while connecting with many other athletes at UE and in the Evansville area.
Tell us about any involvement you may have had in the community. Do you feel you have directly impacted anyone's life through your work as an Ace?
I have had the opportunity to help in the Evansville community through volunteering in projects such as Mickey's Kingdom, Challenger Baseball, and reading to children in schools. I believe I have been able to positively impact children's learning and development in the community.
What makes UE a special place?
UE is such a close, tight-knit community, where each person feels supported and welcomed at all times.
What excites you about your major, and how has UE helped you prepare for your future career?
UE has helped me prepare for my future career through business and marketing practices in the classroom, while also providing opportunities for real life experience.
Do you have anything else to share about your UE experience?
Overall, UE has given me so many friendships and connections in the Evansville area that I will cherish forever.