Physician Assistant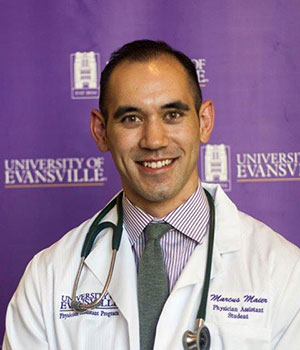 Hometown: Wilmette, Illinois
BA in Biology and Pre-Medicine from Augustana College in Rock Island, IL & MS in Biomedical Sciences from Rosalind Franklin University in North Chicago, IL.
What made you want to be a PA?
It took me a while to figure out that PA was the right choice for me. I always knew I wanted to work in medicine but only knew of nurses and doctors. I worked as an ER scribe and medical assistant in different cities and specialties which allowed me to see the whole healthcare team in action. After I saw how PAs fit in to the picture, I knew it was the choice for me. The amount of patient interaction and option for mobility between medical fields was a perfect match to me.
Why UEPA? Or what makes UEPA different than other PA Programs?
A lot of people say to avoid newer programs, but I knew that UE's program was a great option from the start. They are consistently ranked as a top college in the Midwest and have had remarkable success in their other graduate programs. On top of that, the faculty and staff are committed to making the program work for you. They are always open to hear our comments and concerns and work to make this program a success in every way possible. Also, the new multi-program building is almost ready, and I know it's going to enhance all the programs involved and the Evansville community.
What do you find is your biggest challenge in being a PA student?
The biggest challenge I faced was planning enough in advance to balance the academic work load with my life. I know a lot of people who had an undergraduate experience where they could study the night before an exam and do fine. That just is not possible with the amount of material we cover in class. Setting apart enough time for your studies and work is paramount for the successful completion of this program and to excel as a healthcare professional afterwards. It is also just as important to know when to back away from your studies and let your mind relax. Finding the balance between the two has made the program an enjoyable experience.
How did you prepare yourself for the academic load of being a PA student?
I completed a master's program in 2016 that had a similar course load to the UEPA program. It was a good primer for me since I had not been in a classroom since 2012!
What is your favorite part of PA School?
Almost all my friends went into careers that were not in medicine, so I really enjoy being around other people who understand the lifestyle and journey of a healthcare professional.
What is your favorite class?
Medical Imaging. It was one of our first clinical courses which made the experience of being in PA school feel very much more real! I am also a visual learner so being able to analyze different imaging studies was always enjoyable for me.
How do you balance school and other aspects of your life?
I moved down here with my then fiancée and we got married at the start of our second school semester. As newlyweds in a new town, we are always looking to spend our free time together and exploring the area. We enjoy working out at Orange Theory Fitness and going out to some of the local restaurants when we have the chance. Also at the end of semesters, we usually try to get together as a class to celebrate surviving another semester and getting closer to being a PA.
How hard is it………really???
Not going to lie, it is pretty hard! But it is all worth it because we are doing something we are passionate about. Our class has all had moments of mental burnout, but we picked each other up and moved on to the next semester and now we are only one year away from graduating. Woohoo!
What is the best study skill you can recommend for a PA student?
Share your studying with other people! There is a lot of information that gets thrown at you in the program and it's hard to take on alone. Sometimes, your classmate's perspective or explanation will make all the difference in how you understand a topic and vice versa. There have been multiple times where I would learn more in ten minutes in a group than I did in hours of studying alone!
What is your best advice for anyone working on the CASPA application?
My best piece of advice is to start as early as you can! It is easy to keep putting it off, but you will feel so much better getting your application in early and your chances of getting an interview are much better if you are in the first group of applicants.
What is your best advice for the interview process?
Do not try and be someone else. You made it this far because of what you have accomplished in and out of the classroom. This is who the PA program saw on the application and wants on their campus so be authentic!