Physician Assistant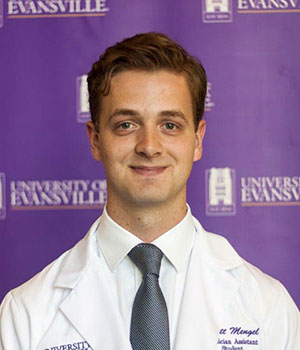 Hometown: Livonia, Michigan
Bachelor of Science in Biology from Aquinas College in Grand Rapids, Michigan
What made you want to be a PA?
Unfortunately, I don't have an easy answer to this question. When I made the decision to pursue PA school at the beginning of my undergraduate career, I admittedly did not have a good reason to do so. I did not have enough experience in medicine to be fully aware of the role that physician assistants occupied within the health care team. It wasn't until I began volunteering, shadowing, and working with patients that I came to appreciate and truly desire a future career as a physician assistant.
Why UEPA? Or what makes UEPA different than other PA Programs?
The University of Evansville PA program takes a unique approach to the student-faculty relationship. I distinctly remember our first day of orientation. Our director, Dr. Roscoe, told us how grateful he was that each of us had made the decision to study at the University of Evansville. Rather than lecture us on how fortunate we were to attend the program, Dr. Roscoe expressed that the faculty at UEPA were truly privileged to have each one of us as a student. A little more than a year later, I can say with confidence that the initial message of mutual respect and gratitude between student and faculty has become a defining characteristic for the University of Evansville Physician Assistant Program.
Did you do anything that really helped you prepare for PA School?
I would say that exposure to the healthcare system is what best prepared me for PA school. I was lucky enough to work with patients and practitioners in multiple different types of facilities throughout my undergraduate degree. It was this combination of experiences that allowed me to see medicine from a variety of different angles that best prepared me for PA school.
What is your best advice for the interview process?
The University of Evansville uses the multiple mini interview system. This approach to student interviews allows the program to judge the candidate's situational awareness in a number of unique situations. Honestly, there are no wrong answers. The situations are stressful by design. So long as you keep your cool and put the needs of others before your own, you will do fine!
What specialty do you want to pursue? Why?
I want to pursue a career in emergency medicine. I like the idea of working in a fast paced environment as part of a team. Emergency medicine will expose me to a number of different situations that will allow me to practice a wide variety of skills and procedures.