Exercise Science, Pre-Phsyical Therapy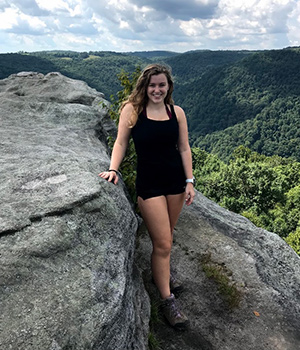 Class Year: 2022
Hometown: Canton, Michigan
Why you chose UE?
I chose UE because they have a great 3+3 Exercise Science, DPT program. I also found it interesting that we were required to take other classes that weren't specific to my major so I would be able to learn about subjects that I wouldn't have normally if I took solely science classes. Also, when I came for tours everyone was so friendly that it made the transition of leaving home feel less scary.
What is your favorite thing about UE?
My favorite thing about UE is that there are so many ways that you can get involved on campus. I am able to be a part of so many different clubs and organizations and meet people I would not have normally, which has really made my whole experience here at UE.
Any other helpful information about your major or any advice, remembering what it was like to go through the college search?
When I looked at colleges, my first priority was education. Make sure that this is a program that interests you and that you be able to get the job you want. UE has a great Exercise Science program that has prepared me so I am ready to start PT school. The second thing that I would recommend is to look at the clubs and activities that are on campus. I've had a lot of fun and met a lot of my friends through this, so I recommend making sure that the school has things that you're interested in! Exercise science has been so cool because I have been able to learn so much about the world around me. It's challenging but so worth the effort that I've put in to gain the knowledge that I have.