International Relations and Political Science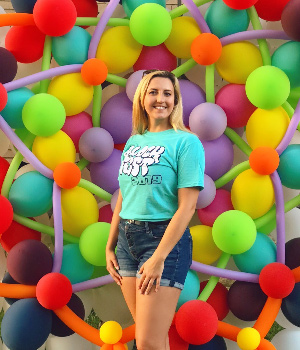 Class Year: 2020
Hometown: Athens, Greece
Finding a New Confidence, 5,000 Miles Away
How did Theda Soldatou end up attending a university over 5,000 miles away from home?
The May 2020 graduate decided to leave Athens, Greece, for Evansville, Indiana, when she was on the Greek national tennis team. Noticing her talent, Coach Jayson Wiseman asked her to compete for UE's Women's Tennis team. After learning more about the campus and what UE had to offer, she decided to take the leap.
"I chose to attend UE because it allowed me to study in a very good academic environment while also giving me the opportunity to continue playing the sport I love."
In addition to being a student-athlete during her time at UE, Soldatou was active on campus as an Orientation Leader for three years. She also took part in many Changemaking projects that helped her develop different skills and give back to the community.
Throughout these experiences, Soldatou holds one project nearest to her heart.
Putting Diversity Front and Center
In her ChangeLab course, Civic Dramaturgy, Soldatou and her classmates were asked to make diverse students feel more welcome at campus events. Helping campus become more fun, exciting and inclusive felt like the perfect project for Soldatou, as she understood that it's easy to feel homesick and like you don't belong sometimes, even with all of the activities on campus.
So, they came up with BlockFest, an annual festival that celebrates diversity and inclusion.
"BlockFest was created to break down walls on campus. These walls exist everywhere in society and even though UE makes continuous efforts to break down these barriers, our campus still had some walls of its own...BlockFest was created to inspire and provide a safe, celebratory space for students, faculty, staff, and alumni to celebrate each other and discover all the things that connect them despite being different."
The festival became a cross-campus effort, with 15 different student organizations getting involved. With booths offering free body art and henna tattoos, a balloon artist, live music and entertainment, food trucks, and more, the event was a hit.
"We had more than 600 students attend within the first hour and a half, and by the end of the second hour of the festival, we had given out all of our merchandise and food tickets," stated Soldatou.
Growing by Doing and Changemaking
BlockFest helped Soldatou grow immensely as a student and professional. After a year of planning and organizing, Soldatou coordinated everything for the team, clarifying group objects, establishing priorities, finding new resources, delegating tasks, and getting people and investors interested in the team's work.
This experience provided new skills and confidence for Soldatou.
"My time at UE and my Changemaking project helped me gain more confidence in my ability to turn ideas into reality. It proved to me that I have what it takes to lead a group of people on a project successfully, and it also helped me understand that even if your vision/goal is concrete, your plans for how to get there need to be flexible and adaptable."
She's been able to apply these skills in a variety of situations, from working for a renowned theatre company in Massachusetts to presenting incentives to the Board of Trustees as the Student Government Association President. Soldatou has also learned how to make an impact in her community.
"I am a Changemaker because I do not only identify a problem in my community, but I also take the necessary steps to figure out a solution, and help eliminate or lessen that problem."