Physician Assistant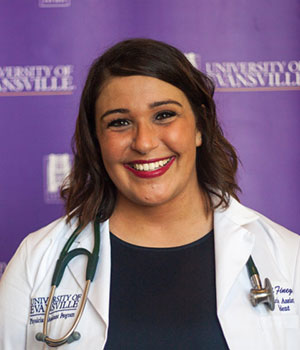 Hometown: Sterling Heights, Michigan
Undergrad/Master's degree/ College attended: Wayne State University in Detroit, Michigan, BS in Biological Sciences
What made you want to be a PA?
I have always wanted to work in the medical field. In my undergrad, I shadowed a PA who I thought was a doctor. The day I shadowed, she introduced me to the PA world and I fell in love. In between patients, she explained the schooling and responsibilities of a PA and answered any questions I had. I came home that day and told my fiancé I found my passion and what I wanted to do with my life. My PA journey started that day.
Why UEPA? Or what makes UEPA different than other PA Programs?
The UEPA program is special and stuck out because of the faculty. The faculty I met at my first interview were warm and caring and created an environment that I wanted to grow and learn from. The entire faculty treat us as a family rather than students.
Did you do anything that really helped you prepare for PA School?
I worked in a Pediatric office that exposed me to working with patients and medical professionals. It allowed me to truly experience being part of a medical team and I learned a tremendous amount of valuable information. Patient care exposure is one of the best ways to prepare for PA school, in my opinion.
What is your best advice for anyone working on the CASPA application?
Start Early! There is so much information that needs to be filled out that waiting until the last minute is detrimental.
What specialty do you want to pursue? Why?
OB/GYN – I have personal experience that has attracted me to OB/GYN and made me appreciate the dedication and compassion in that specialty. Being able to take care of women's most personal health and have the opportunity to help bring infants into the world seems like one of the most rewarding things I could possibly do.