Environmental Science, Applied Biology, and Chemistry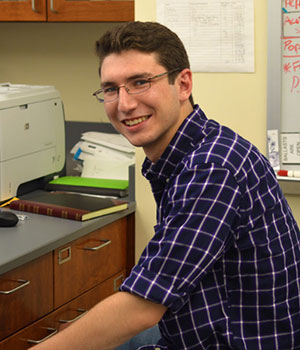 Hometown: Broadlands, Virginia
A strong changemaking culture
There is a strong changemaking culture at the University of Evansville, says Tyler Wintermute, and it's encouraged by the close, personal connections formed within the UE community.
Outside the classroom, students share worldviews, passions, and interests through clubs and organizations and work together on projects and events that impact the local community – and in some cases – the world.
The one-on-one interaction between UE professors and students often leads to projects, research, and internships that are changemaking in nature.
Gain real-world experience while helping others in ChangeLab classes
The opportunity to be a changemaker can also be found through academics, especially in ChangeLab classes.
"Students in ChangeLab classes gain real-world experience working with city, local businesses, and organizations to solve problems and create innovative solutions and initiatives to improve the lives of the community."
Ideas that make a difference
His Alternative Energy ChangeLab class decided to propose a campus alternative energy awareness week for their entry in the Changemaker Challenge. They won second place and received $1,000 to implement their idea.
"We put up posters, arranged public lectures, and screened a documentary. We even went around campus tuning off lights in order to reduce energy use."
"The crowning achievement was when we were awarded a $90,000 grant to install LED lights and solar panels on Evansville's Carver Community Center, a project that has saved $17,000 a year for the organization. They used these savings to allocate more funds to programs serving the community and youth programs."
The responsibility - and the ability - to make a difference
The Alternative Energy ChangeLab class showed Tyler the impact he could have as a changemaker.
"I realized that I had the ability to make a difference in my community, and that I have a responsibility to ensure that our planet will be here for generations to come. In combining my passion for the environment with opportunities provided by UE, I have seen the impact that a small group of concerned, dedicated citizens can have – even if we have yet to earn a degree. I am constantly amazed by what I have accomplished, which only inspires me to do more."