Finding Plays & Monologues
Plays are included in the literature area of the collection and are organized by original language and publication date, so finding a play without the title or author can be tricky. All literature information begins with the call number P. The following methods can be used to quickly locate plays and monologues.
Most plays are shelved on the 4th Floor of the library with other literary works by country, culture or region and then by playwright. Here is a basic guide to what information you will find each subset of the literature section.
PA Greek. Roman. Latin.
PG Slavic. Baltic. Albanian.
PJ Oriental.
PK Indo-Iranian.
PL Eastern Asia. Africa. Oceania.
PN 1997 Screenplays.
PN 2080 Monologues.
PQ 1-3999 French.
PQ 4001-5999 Italian.
PQ 6001-8929 Spanish.
PR English. (Shakespeare = 2750-3112)
PS American.
PT 1-4897 German.
PT 5001-5980 Dutch.
PT 7601-9449 Danish. Norwegian. Swedish.
M 1500-1527.8 for Dramatic Music and Musical Theatre
Finding Monologues
Books of monologues typically include excerpts or short summaries of plays that can be used for auditions.
More monologues can be found using Quest by searching the keyword "monologues" and filtering to Held by library. Or you can browse the stacks directly. Most monologues have PN 2080 as their call number. All monologues can be found on the 4th floor. Here are a few monologues from the collection.
| | |
| --- | --- |
| Play the Scene: the Ultimate Collection of Contemporary and Classic Scenes and Monologues / Michael Schulman & Eva Mekler | PN2080 .P59 2004 |
| The Ultimate Audition Book: 222 Monologues, 2 Minutes and Under / Jocelyn Beard | PN2080 .U48 1997 |
| Ultimate Scene and Monologue Book: An Actor's Guide to Over 1,000 Monologues and Scenes from More than 300 Contemporary Plays / Ed Hooks | PN2080 .U485 2007 |
Search Quest: the Library's Catalog
By Format
It is possible to search just the Library's catalog for copies of plays we have in print. This method will find all plays, from Greek tragedies through contemporary theatre. Please note that there is no single play section; plays can be found throughout the literature section.
To search for plays in the Library's catalog:
Go to Quest.
Click Advanced Search.
Change the Search Profile to UE Libraries' Catalog
Select Subject
Type drama
Select Books as the Material Type
Search!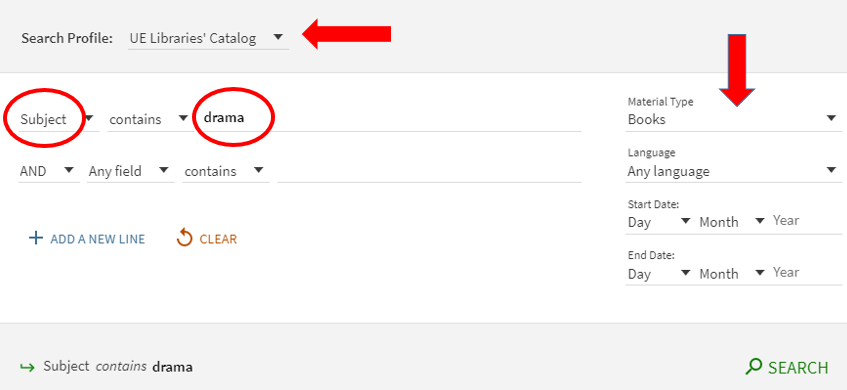 By Publisher
Samuel French and Dramatists Play Service are two major publishers of contemporary play scripts. Search for the phrase "Samuel French" or "Dramatists Play Service" in Quest's Basic Search and limit to "Held by Library" to find titles from this publisher. You will get some false hits when searching for "Samuel French". Simply add play to the "Samuel French" search and the results will be more relevant.
Theatre Databases
These databases are purchased by the library so students have access to great information. If you are off-campus, please log into Off-Campus Access and select the databases from that list.
Drama Online
Drama Online offers expert guidance in the form of scholarly notes, annotated texts, critical analysis and contextual information making this an essential study tool. Critical interpretations, theatre history surveys and major reference works on authors, movements, practitioners, periods and genres are included alongside performance and practitioner texts, acting and backstage guides. Besides the core collection, UEL subscribes to these individual collections: Aurora Metro, Nick Hern Books, and Playwright Canada Press.
American Theatre Magazine
Your inside look at what's happening in theatre across the US, around the world and the people who create it. The only national magazine that provides comprehensive coverage of the world of theatre both in the U.S. and abroad. Includes 5 complete playscripts each year, artists profiles, and much more. Two special issues published each year "Theatre Training" (January) and "Season Preview" (October).
More Theatre Databases
General Websites for Theatre
Catalogs of Theatre Publications
These websites contain the entire publishers' catalogs. While UEL owns many of them (see section above on finding plays), we do not own them all nor are the plays available online.
Costumes
Helen Louise Allen Textile Collection
This collection is one of largest university textile collections and includes 13,000 textiles and related objects spanning various places, techniques, and time periods.
Milieux: The Costume Source
Extensive list of sources related to costumes.
Elizabethan Costuming Page
This site that includes information, drawings, and photos about clothing for peasant, middle, and upper class men and women from the Tudor and Elizabethan periods (sixteenth century) in English history. In addition there are extensive period illustrations, patterns for making everything from shoes to hats, information on Elizabethan fabrics and colors, and some information on costume of the time outside of England.
Associations and Organizations