Physician Assistant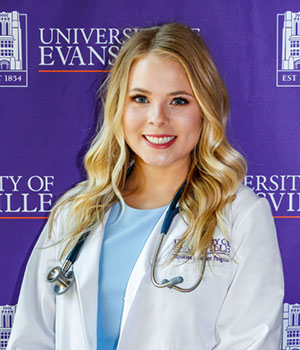 Hometown: Gaston, Indiana
Undergrad/Master's degree/College attended: Movement and Sport Sciences, Purdue University
What made you want to be a PA?
A number of factors led me to choose to become a physician assistant. After working with PAs in both the ER and clinic setting, I loved the close relationships that PAs were able to form with their patients. As a PA, you must work well in a team setting, which fit my strengths and interests. In addition, I appreciated the freedom that PAs have to explore different specialties and areas of medicine throughout their careers.
Why UEPA? Or what makes UEPA different from than other PA programs?
I was first interested in UEPA because of the program's emphasis on creating well rounded providers who coordinate with other members of the health care team to improve patients' overall wellness. Once I arrived for my interview, I was blown away by the support and encouragement from the program director and staff. It was so different than my experiences with any other program. After a year of classes, that support has only grown. I know that each faculty member will go above and beyond to help us succeed in anything we need.
What do you find is your biggest challenge in being a PA student?
The biggest challenge I've come across in my year of PA school thus far is learning to manage my time… efficiently. You need to find time to constantly learn and practice new material. You need to find time to exercise and remain healthy. You need to find time to stay close with your family and friends and keep a good support system. You need to find time to relax, destress, and take care of yourself. You need each and every one of these (and maybe more) to be successful.
Time management is essential and is something I struggled with previously. I have had to learn to adjust my study habits to get through material efficiently each day, rather than procrastinating and attempting to cram large amounts of information at once (a huge step for me). I have had to learn to utilize a schedule more regularly and plan ahead, including meal prep, keeping workout clothes with me, and making sure I have what I need to be productive if I have down time. I have had to learn to prioritize my time and learn to say no to my family and friends if I need to focus more on school or myself (also huge). Although these seem like simple steps, I am continuously working to improve my time management skills to be the best PA student I can be.
Did you do anything that really helped you prepare for PA school?
For 2 to 3 years prior to beginning PA school, I worked as a medical scribe in the ER and a medical assistant in an orthopedic office. The knowledge and experience I gained through these jobs have helped me immensely in school. Simply gaining exposure to different areas of medicine has really helped me recognize and remember different medical conditions, different medications, and different therapies that we are now studying. It gave me the opportunity to develop close relationships with the doctors and PAs whom I worked with and use them as a resource to learn more. I am thankful for those experiences each day in class!
What is your best advice for anyone working on the CASPA application?
Finishing your CASPA application can be an intimidating task. There are so many different schools to choose from and so many supplemental questions to get through. My best advice for the CASPA is to really research the programs which you choose to apply to and stay true to yourself. You obviously need to figure out the program's admission requirements and prerequisites. Finding the right school, however, goes beyond that. What are the program's values and mission statement? Who do they think is the proper student for their program? Different PA programs value different characteristics in applicants. Find those programs that really suit your personality and apply. A mistake I made while applying was trying to force my strengths and experiences to fit a particular program's requirements when we weren't even a good match, which showed later during my interview. I promise there are programs out there who are interested in you, just as you are. You just have to search and find them!