Spanish and Creative Writing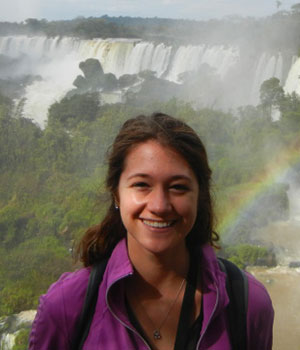 Term Abroad: Summer 2017
Country of Study: Argentina
What has been your most rewarding experience abroad so far?
My most rewarding experience during my study abroad was that I had the opportunity to team up with Un Techo Para Mi Pais (sort of a Habitat for Humanity organization). We went to a poor community on the outskirts of Buenos Aires and built emergency houses for various families in need. The experience was humbling and eye-opening, and I'm so glad that the study abroad program had it as an optional activity for us students.
What has been your favorite part about your host culture?
My favorite part about my host culture was how warm the people were. I don't think I ever had a bad experience with talking to a random local. Everyone was very nice and always curious about me and my culture as well.
What has been your favorite trip you've taken?
My favorite trip during my time in Argentina was to the Iguazu Falls, which is one of the New Natural Wonders of the World. I can't even describe how breathtaking the waterfalls were and how amazing that weekend was. If I can, I'd love to go back with family because it is priceless.
What will you miss the most when you leave?
I will miss my host mom and the friends I have made.
What has been most challenging living in your host country/culture?
The most challenging thing I encountered was getting used to speaking Spanish all the time. I got used to it after a couple weeks, but I could tell that my brain wasn't used to it initially.
What is your best advice for a future study abroad student?
Never turn down an opportunity to mingle with locals or go see new things. Enjoy every moment and just make the most of it, even on the bad or rainy days.