Physician Assistant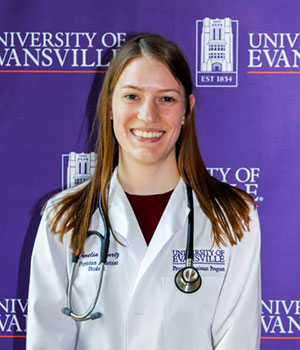 Hometown: Evansville, Indiana
Undergrad/Master's degree/ College attended: Indiana University Southeast – Bachelor of Science in Psychology
What made you want to be a PA?
I have always had a desire to help others and an interest in the medical field. I was so excited when I first learned about physician assistants. It was the perfect fit for me because I was interested in becoming a physician, but was eager to start my career much sooner. By becoming a physician assistant, I have the opportunity every day to make a difference in someone's life. Plus, I even get to wear one of those cool lab coats!
Why UEPA?
I had originally applied to UE's PA Program because of the convenience of remaining in my hometown, where my husband and our families reside. However, I have found so many other reasons for why to choose the University of Evansville's PA Program. The best part of UEPA is the faculty! The professors and staff are always ready to help you, whether for clarification on class material, extra help with clinical skills, or even simply being available to talk to, or making you a cup of hot chocolate! In addition, I love the smaller class sizes, and of course, the cadaver anatomy lab. At UEPA, you truly feel as though you are a part of a family, and you just cannot get that anywhere else.
What was your major in undergrad and did it prepare you for PA School?
In undergrad, I majored in psychology. Psychology is one of those subjects that transfers to everything you do in life. It provided me with a deeper understanding of human nature and why we do the things we do. This knowledge will help me with my future patients in being able to better understand their point of view.
How hard is it…really?
Being a PA student is a major time commitment. There is a lot of material to learn and retain in a short amount of time. The material is not necessarily "hard," rather, the hard part is staying focused and having the stamina to continue studying every day. You have to remind yourself how rewarding all of your hard work will be in the end.
What is your best advice for the interview process?
For the interview process, I recommend to just be yourself and relax. Do not hold back on sharing any of your accomplishments – this is not the time to be humble. Let your best self shine, and be proud that you have made it this far in the process.