Bachelor of Science degree in Legal Studies and a minor in Criminal Justice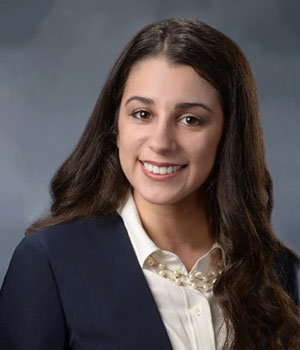 Class Year: 2014
A Good Foundation for Future Success
Attorney Ariana Tanoos said that it was her undergraduate education at the University of Evansville – both inside and outside of the classroom – that helped her succeed in law school and in her legal practice.
"Legal studies at UE is one of the best preparatory programs for those interested in pursuing a career in law. We had courses from every area of law as well as practical courses about running your own firm."
Learning from Experts
Ariana said that she learned a great deal from practicing attorneys and judges who taught many of her upper level classes. Several wrote letters of recommendation to accompany her law school application, and some are partners at her law firm.
Engaging Professors
Ariana also praised UE associate professor of sociology and criminal justice Kevin Gray. His classroom style led her to add a minor in criminal justice.
"His expansive knowledge and application of the course material to current topics, paired with his humor, made it impossible not to learn in his class."
An Internship in the Heart of the Legal System
"I had an internship working as a bailiff for the judge of the Vanderburgh County Circuit Court in Evansville," said Ariana. "It was the perfect, hands-on experience for someone interested in law. I was in criminal court every day, observing cases from drug offenses to murder trials. I assisted the judge with case files, took notes, and observed how a court works both in the courtroom and behind the scenes."
Harlaxton – Straight out of a Storybook
While Ariana didn't study abroad at Harlaxton, she did visit the manor when her then boyfriend, now husband, was studying there.
"Harlaxton was breathtaking - truly out of a storybook. UE students are fortunate to have the opportunity to study abroad in such a safe and beautiful place."