Physician Assistant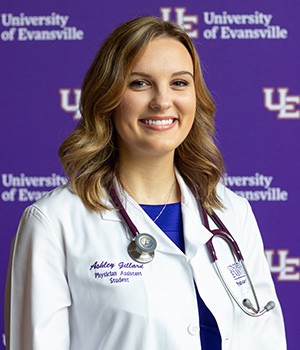 What made you want to be a PA
I realized I wanted to be a PA after taking Anatomy and Physiology during my freshman year of college. Initially I wanted to go to school to become a radiology technologist, and my A&P teacher really pushed me to explore other options in the medical field. I had shadowed a PA during high school, but it wasn't until college that I realized I wanted to be more involved in the care and treatment of patients. Once I started scribing with both PAs and doctors, I quickly realized that becoming a PA was the right path for me!
Why UEPA?
When I found out that UE was starting a PA program, I knew this was the program I wanted to get into! After doing a lot of research and keeping up with this program on social media, I was reassured that UEPA program was different. On the day of the interview, Dr. Roscoe talked with us and I instantly felt like I was at home in this program. He stressed that UEPA is one big family and that as students, we have a voice. I could tell the faculty genuinely cared about us and wanted us to succeed. I didn't feel like I was just another applicant or another PA student, which was something that I had felt from other schools when interviewing.
What is your typical day like?
During the week, I typically wake up at 5:00 am and study until our classes begin. After class I come home where I eat lunch/have a snack and take about a 30-minute break. I usually study the rest of the day until dinner time and then I put the laptop away! I realized I am able to focus so much better early on in the day, and that is why I started waking up 3-4 hours before class starts so I can get quality, uninterrupted study time in. I like being able to take the evenings off from studying so I can work out, clean my apartment, watch tv, or relax a little bit. On the weekends I usually study about 5-6 hours a day and then spend the evenings with my family! I think this study schedule is best for me because it also allows me to take a day off when I need to.
What is your best advice for the interview process?
My best advice to offer is to just to be calm and be yourself! It is hard to prepare for MMI interviews, so I would just reflect on your own morals and personality traits. I went into the interview process being 100% authentic and answered the questions honestly, to the best of my ability. The interviewers will be able to tell if you are trying to be someone that you are not. This is a chance for our program to get to know YOU!
What do you find is your biggest challenge in being a PA student?
Time management is the biggest challenge hands down. I would say that most of the material that we cover in PA school isn't hard to understand, it's just hard to sort through the vast amount of material that we are given. It's easy to get behind in one or more classes if I'm focusing all my energy on a test that's coming up in a few days. Once that test passes then I'm focusing on a test in another class and it can become a never-ending cycle. Setting up a study routine is the best way I have found to combat this issue, but sometimes it does feel like I'm always playing catch-up!