Physician Assistant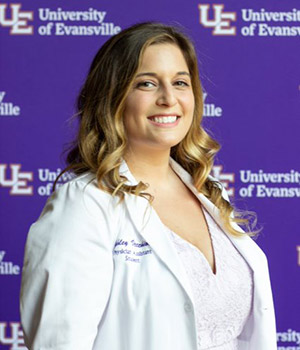 Hometown: Rising Sun, Indiana
Bachelor's in Biology at Northern Kentucky University
What made you want to be a PA?
I loved the flexibility of the career, since I am interested in multiple specialties. I also really liked that the career allows for more interactions with patients.
Why UEPA? Or what makes UEPA different than other PA Programs?
UEPA felt like the right choice for me since the very start. I love that this program is striving to create not only competent providers, but also compassionate and empathetic providers, as I feel like these are very important traits that providers often lack. Also, our professors and faculty are very invested in us, our well-being, and our success.
What is your best advice for the interview process?
Try your hardest to be your most authentic self. The interview process is all about getting to know the program and allowing them to get to know you. You've already proven your intelligence and ability to complete the rigorous classes, but they want to assure that you will make a good provider, too.
What is the one thing about PA school you weren't prepared for?
Being away from family and friends and missing out on things back home.