Physician Assistant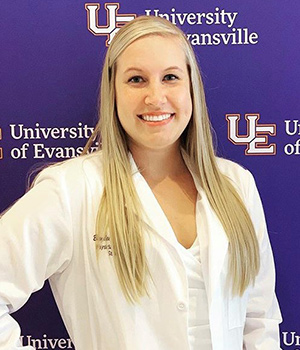 Hometown: Washington, Indiana
Bachelor's Degree in Biology at UE
What made you want to be a PA?
I've known I wanted to go into the medical field since I got my first toy stethoscope. Going into college, I thought the options were simple: go to medical school or become a nurse. I knew that I wanted to be able to care for my own patients and be in charge of the plan of action for their care. I began working as a nursing assistant at a hospital and enjoyed the ability to build such close, personal relationships with my patients, but I wanted to play a much larger role in their care. While I was in undergrad at the University of Evansville, a PA program was being developed. I decided to go to a few informational sessions about the program in order to learn what a PA is and what a PA does. This then led me to shadowing PAs to see what the job would really be like on a day-to-day basis. I fell in love. I loved the idea of being able to take care of my own patients, prescribe them medications, and perform in-office procedures on my own, all while being under the wing of a more experienced, knowledgeable doctor who would be there to support me and teach me as I go. I loved the idea of going to school for 3 years and being able to enter the workforce quicker to begin working in an area that I am passionate about as compared to several more years that would be required if I were to go to medical school. I loved that I could spend more time with my patients and truly get to know them, much like I had enjoyed while being a nursing assistant, more so than most doctors can due to their many responsibilities. I also loved that it would be possible to switch between specialties as a PA, as life is always changing, and this leaves us with room to grow. Being a PA aligns perfectly with what I am looking for in a career in the medical field. As a PA, I want to be able to help bridge the gap in access to healthcare in rural areas while providing my patients with an excellent quality of care.
Why UEPA? Or what makes UEPA different than other PA Programs?
I chose UEPA because it feels like home. The professors know me not only by name, but they know almost everything about me it seems. I wanted to attend a PA program that had the same values as I do and one that I knew would put my success first and see me for who I am and not just another number in their program. The environment of the program is exactly like what they said during interviews. It is truly a family where we are supportive and take care of one another. The program is collaborative, and the environment kept positive as we are all working toward the same goal. I find myself realizing how lucky I am to be in this program at least once a week. PA school is hard, and I feel I would not be enjoying it nearly as much or be as successful as I have been at any other PA program.
What is your favorite class?
My favorite class is therapeutics. I love being able to apply what I learned in pharmacology as well as other classes, such as clinical medicine, to decide what drug is the best for the patient scenarios. It is one of the first classes that has allowed me to apply my knowledge from previous classes and really shows me how much I have learned over the course of the past year. The material is not only very interesting, but it is fun to have a class that involves aspects of what I will really be doing as a physician assistant in the future.
How hard is it…really?
PA school is hard, but not in the way I thought it would be before I was a PA student. The material is difficult and fast paced but I expected that after talking to other previous cohort students. It is completely manageable, and the UEPA program really works to prepare you for the academic challenges you will face. What is actually hard about PA school is the mental challenges that will be thrown at you along the way. Studying all day for an exam is exhausting. Taking an exam you've studied for weeks for and not getting the grade you wanted is disappointing. You have to be able to pick yourself up quickly and be ready for the next exam that is likely only a few days away. Being away from family and friends for long periods of time is hard, especially when you have to miss out on plans or turn down invitations to hang out. It is so important to build a strong support system through professors and classmates so when these challenges start to wear on you, you are not shaken and can keep driving forward focused on your goal of becoming a physician assistant.
Are students at UE competitive or collaborative?
In order to get into PA school in the first place, we all have to be driven and somewhat competitive. It can be hard to let that go, especially in the first semester. However, the nature of the students at the UEPA program is truly more collaborative. I have never been in a situation where the students around me are so caring and giving. When someone is struggling to understand a concept in a class, there are always several people that will reach out and are willing to help. We always share any resources, extra material, and study aides that we find with our whole class either through group me or a Google Drive. Different study methods that have been found to be successful are shared with everyone in the class. Several students utilize quizlet and share their sets with the rest of the class. We are all in this together because we are the only ones that truly understand what we are going through at this time in our lives. It is such a good support system that is focused on all of us succeeding through the program and achieving our goals of becoming future providers.