Marketing and Management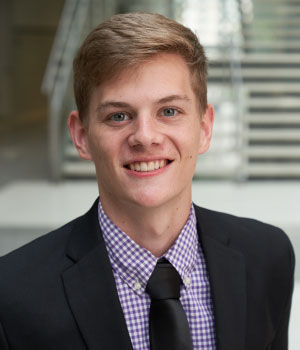 Class Year: 2021
How did you find out about the University of Evansville?
I am from Evansville.
What made you decide on UE as your college choice?
I decided on UE because of the great academics, the study abroad opportunities and the amazing, diverse culture that we have. Every is welcome at UE, and everyone is encouraged to be themselves. That is an exciting environment to go to school in.
Tell us about your involvement on campus and any special opportunities or projects you have found through UE.
LEAD Forward is a leadership development program that I am currently involved in. This program is a wonderful opportunity to grow as a leader, business professional, and person.
Tell us about any involvement you may have had in the community. Do you feel you have directly impacted anyone's life through your work as an Ace?
After coming to UE, I was advised to get more involved in the Evansville community. I volunteered time at my former high school Mater Dei helping with the youth baseball camp. It was an immensely rewarding experience because I was able to share knowledge of the game that I love with the youth of my Alma Mater.
What makes UE a special place?
UE is a special place because of the culture that we have. Everyone is extremely accepting and open-minded. Most people love traveling and it is great to share tales of the places that everyone has visited.
What excites you about your major, and how has UE helped you prepare for your future career?
The thing that excites me most about my major is the fact that I get to be creative on a daily basis. That allows me to not have to do monotonous tasks and I can make every project that I work on my own.
Do you have anything else to share about your UE experience?
If I were to share anything else, it would be a word of advice that I have learned in my time at UE. Push yourself outside of your comfort zone and there's no limit to what you can do and where you can go.