Communication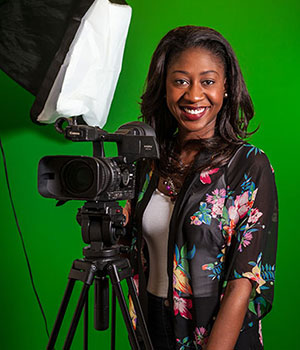 Class Year: 2016
Explore Campus Life
Cherese Butler was initially attracted to UE because of their student-to-faculty ratio (13:1) and how the professors and staff work hard to make sure each of their students succeed. Cherese also loved that there were so many opportunities to get involved on campus. She worked with AcesTV and WUEV throughout her time at UE, which allowed her to learn a lot about the career she planned to pursue. She also had the chance to spend a semester at the number #1 study abroad program in the US, Harlaxton (BestCollegeReviews.org).
Get to Know Your Professors
One of Cherese's favorite professors was Dr. Mark Shifflet, professor of communication. His one-on-one interaction with Cherese made all the difference when courses got difficult. Dr. Shifflet was always available to spend time outside of class going over concepts to make sure Cherese not only passed the course but also had a deep understanding of the material. She appreciated that Dr. Shifflet made all of his classes interactive both by asking for the students' opinions and using them in scenarios to help them learn a concept better.
Envision your Career
Cherese's dream job is to host the red carpet for a major awards show such as the Grammys or the ESPYs and to have the opportunity to travel around the world covering events. Working with AcesTV gave her the knowledge and confidence to be proficient both in front of and behind the camera. In addition to AcesTV and WUEV, Cherese was an active member of Black Student Union and a Student Government Association representative. Through participation in these activities, she grew as an individual and learned how to be a more effective leader.
Step Out of Your Comfort Zone
Cherese's advice to students going into college is, "Do things outside of your comfort zone. Join a new club, study, and talk to other students you may not know…you will be surprised by how much you learn by doing these things."