Athletic Training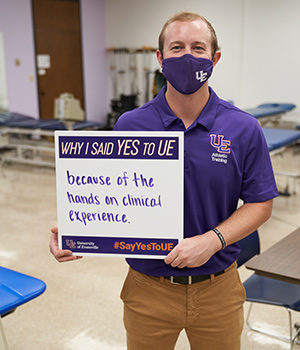 Class Year: 2020
Why did you choose athletic training?
I wanted to study something that could incorporate my passion for athletics and a future goal of helping athletes stay healthy. After a review of master's degree programs at UE, I felt the Master of Science in Athletic Training (MSAT) would be the best fit for me. I was also drawn to the hands-on experience offered in the program that would allow me to experience an AT career firsthand.
What's it like to be in this program?
It really allows me to focus on my career. In every class I have found support from the professors in my program. There's a great balance between classroom assignments and hands-on learning. When it comes to the clinical education experience, I've developed a well-rounded skill set for the future, including time management and communication.
Why UE?
My favorite part of UE is the close-knit, family-like atmosphere. All my classes are within walking distance on campus. Additionally, the small class sizes have helped me feel like part of the class and have given me personal connections with classmates and professors. My academic advisors have been so supportive, and they helped guide me through my undergraduate studies to prepare for graduate school.