Business Administration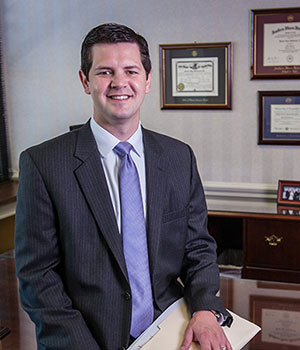 Class Year: 2004
Attorney Daniel Robinson Jr. earned his Bachelor of Science in Business Administration from the University of Evansville in 2004. He went on to earn his Doctor of Jurisprudence degree from the Southern Illinois University School of Law, graduating magna cum laude.
"My experience at UE was instrumental to my success in law school," said Robinson, "and continues to serve me well in my career."
A major part of that experience involved being a student-athlete. Robinson played varsity baseball at UE for four years.
Learning invaluable skills
Balancing the responsibilities of both the baseball field and in the classroom taught him strong time management skills. That ability to successfully handle multiple demands on his time and attention has served him well throughout his academic career and now as a professional.
"The thing I appreciate the most about my experience at UE," added Robinson, "is that it provided me a classic liberal arts education. UE taught me how to learn. That is an invaluable skill to have in an ever changing world."
Getting to know his professors
As a UE student, Robinson was impressed with the fact that the professors taught their own courses and didn't rely on teaching assistants. All of his professors knew him on a first name basis, and he developed close, personal relationships with many of them.
Professor of political science Bob Dion was one of Robinson's favorite instructors. He remembered Dion's classes on American politics "to be interesting and engaging. Aside from Dr. Dion's lectures and true passion for this area of study, he would also provide excellent feedback, both substantively and grammatically, on course assignments."
UE was the right fit
Robinson decided on UE for his undergraduate degree for many reasons, including its academic reputation, Division I status, the University's location within Evansville, the intimate campus size and student body, and its low student-to-faculty ratio.
Looking back on his college career, Robinson said that he "loved living in Evansville and on UE's campus. It was a unique experience. In many respects, living on campus at UE is like living in a city within a city."