Nursing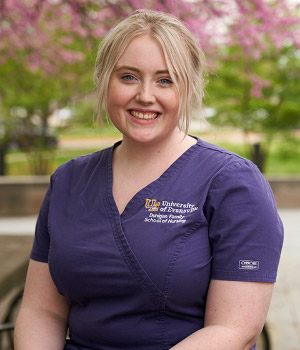 "I had it all figured out. I was going to a big state school that I always dreamed about to major in nursing. My freshman year, everything was going as planned and I was doing well; I had a 3.8 GPA. There was every indication I would be admitted into the nursing program; however, that's not what happened. I was placed on a waitlist and encouraged to try again because there weren't enough positions in the program.
It was devastating. It felt like my dream of becoming a nurse would be delayed or maybe not happen at all. So, I started exploring transfer options and discovered the University of Evansville's School of Nursing direct admit program. To my surprise, most of my credits transferred, and I was able to start the nursing program immediately!
But what about the cost? I was sure UE would cost more than the state school, but I was surprised again. With the scholarship and financial aid I received from UE, I'm paying the same that I did to go to the state school.
My time at UE has been awesome. I'm about to begin my senior year and will attend Harlaxton College, UE's study abroad center in Grantham, England, with 14 of my nursing classmates.
I'm happy that I transferred to UE. I feel that professors here want us to succeed. There is comradery and a sense of respect for students."