Physician Assistant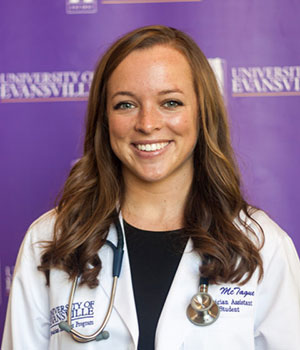 Hometown: Fort Wayne, Indiana
Undergrad/Master's degree/ College attended: Human Biology BS from Indiana University
What made you want to be a PA?
I've always been very interested in medicine. I had no doubt I wanted to do that. When I heard about the PA profession, it seemed to perfectly check all my boxes. I loved how you are able to move around in different areas of medicine and between specialties without a problem. I can see myself starting in a high demand specialty with long hours and on call time then moving into a more general practice with set hours so I can be able to start a family but keep a work life balance.
Why UEPA? Or what makes UEPA different than other PA Programs?
UE was the first school I interviewed at so I really had no idea what to expect from it. I'll never forget when Dr. Roscoe, the program director, came in to talk to my group and he said something along the lines of "You're all smart, that's what got you here. Now the playing field is even and were looking for the personalities that will make great providers." I loved how the focus of the program is making well-rounded proficient providers and the focus isn't completely on grades. They want you to succeed in school but they also focus on interacting with patients and how to become a provider that is fully competent and also one that patient would like to return to.
What is your best advice for the interview process?
If you're anything like me, you'll probably be a nervous wreck. What I wish I did was try to relax and showcase my personality and ways that I stand out from the other applicants. Also showing confidence is important, but be confident and not cocky. There's a big difference and no matter how much you think you know you have so much to learn.
Are students at UE competitive or collaborative?
I've been surprised at the collaborative environment that is here at UEPA. While yes, there's always going to be some people that are very competitive and at times it can get intense- that's school, but overall we're all getting through school together. We were told that if we know someone is struggling in a certain class to help them out. Medicine is a collaborative effort and just because you're good at one subject, there's probably one that's going to be a struggle for you and at that time you're going to hope someone is there to help you out.