Physician Assistant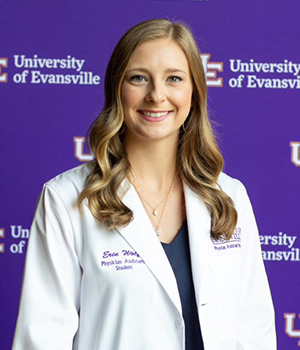 Hometown: Mount Vernon, Indiana
Undergrad/Master's degree/ College attended: University of Kentucky, B.S. in Kinesiology
What made you want to be a PA?
While in high school, I knew I wanted to work in healthcare. I explored many careers through shadowing as a high school senior, but nothing really seemed to fit… until shadowing a PA. I immediately fell in love with the role of a PA. I wanted the ability to provide high-quality medical care, change specialties, have a flexible schedule, and be an important member of the overall healthcare team. Since the day I first saw a PA in action, I have not stopped working towards my dream of becoming a PA.
Why UEPA?
Evansville will always be home to me. After 3.5 years away from home for undergrad, I was ready to come back and serve the community that made me the person I have become. Working and shadowing in Evansville while completing my undergraduate degree further solidified my desire to return to the area. In addition, the UEPA faculty and staff seemed to genuinely care about me, even a couple years before I was ready to apply. I have built great relationships with my professors and they are always available to the students.
What do you find is your biggest challenge in being a PA student?
My biggest challenge is finding a balance. It's difficult to balance our rigorous course load, relationships with my friends, family, and fiancé, exercising, eating healthy, and finding time for other wellness activities. I've found writing everything down in my planner and sticking to a schedule helps me manage my time. I also rely on the support of my loved ones. Thankfully they are very understanding of my crazy schedule!
Did you do anything that really helped you prepare for PA School?
I worked as an operating room technician PRN for three years. This experience taught me so much about working on a healthcare team. I learned important communication, time management, and patient education skills in this role that I will utilize in my career as a PA. I also learned about many surgical procedures and anesthesia and traveled to every part of the hospital as a part of my role. I always recommend working in a healthcare setting to all pre-PA students!
Are students at UE competitive or collaborative?
Collaborative! At UE, we are all on the same team. My classmates and I are there for each other through everything. We genuinely want each other to succeed, and that is something that can be hard to find in a professional program.