Sport Management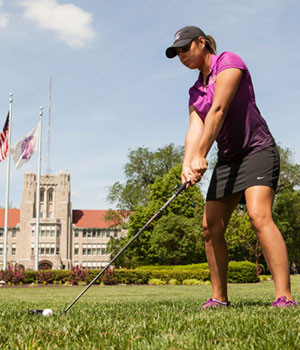 Class Year: 2019
Hometown: Rio de Janeiro, Brazil
Number One Golfer in Brazil
As golf is not a popular sport in Brazil, Giulia was only one of 15 to 20 competitors in tournaments. Still, she made an effort to attend every tournament in order to improve her technique and also represent her country. She was the number one golfer in Brazil for two years, representing her nation at international tournaments including the Amateur Championships, the South American Junior Championships, and the Junior World Championship in California. "It was an honor to represent my country and my flag at these competitions. It was a pleasure to play a sport that I love for the country I love."
Working at the 2016 Olympics
After 100 years of excluding golf, the 2016 Summer Olympics held in Rio de Janeiro, Brazil, reintroduced the sport. Giulia had originally planned to be a volunteer at the Olympics with responsibilities such as sending scores via radio to headquarters. After seeing her noticeable interest, she was offered a position on the executive board. She became the sport information director for the Olympic Golf Course giving her the opportunity to manage the golfers' schedules, tee times, and transportation. She ensured that the competitors reached the driving range at the right times and provided information about the weather. Her office was located in the players' lounge, so she interacted with the Olympians on a daily basis. Giulia says, "It was a great experience for me. I had so much fun! I met people from different countries. I felt one step closer to my dream job of being in sports management."
Coming to America
Giulia always wanted to come to the United States and pursue a degree in sports management. She attended a career fair at her high school in Brazil and met UE's director of international admission. Their conversation sparked an immediate response for Giulia. She became quickly interested in the University of Evansville as a small, private university tied with a large international population. Giulia received acceptance letters from several campuses in Scotland and in the United States. She chose University of Evansville because of the small class sizes, the opportunity to play Division I golf, and the international component as well as because she received significant financial aid.
Playing Division I Golf at UE
Coming to the United States was an intimidating experience for Giulia at first. After International Orientation and meeting the golf team, she felt right at home. "The team welcomed me with open arms. They are fantastic people both on and off the course." Giulia says. "It's been a fantastic experience playing with the team and going out to the tournaments." She loves to travel and play on different golf courses.
Her teammates are more than her friends, they are her family. They support her academically, personally, and in athletics. UE also supports their athletes. "My coach is fantastic. He is very caring and really loves our team."
Internship opportunity of a lifetime
After learning about an internship opportunity with an organization she greatly admires, Giulia worked with Linda Wolf in the Center for Career Development to build a strong résumé and to practice her interviewing skills. "Linda Wulf in the Center for Career Development is a great person. She helped me so much in getting my application put together, and she followed up with me regularly after I submitted everything."
Giulia applied to and was accepted as an intern for the Professional Golfers' Association. She underwent an extensive application and interview process, and she finds the rewards of being chosen overwhelming. She will be working in Tournament Business Affairs. Her responsibilities include community outreach, outreach to local businesses, event management, and tournament management.