Marketing and Management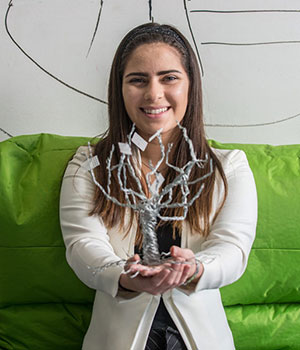 Hometown: Newburgh, Indiana
Finding Inspiration
In high school, Hannah Jaramillo had trouble finding the inspiration that would spark her innovative and creative mind. But during her senior year, her high school took part in UE's High School Changemaker Challenge. Of course the possibility of winning a full-ride scholarship to the University of Evansville was a big motivator in her joining a team, but she also knew she was good at presenting, and just wanted to give it a shot.
Inspired by a meme, Hannah and her team came up with the idea for "CommuniTree", a steel tree powered by solar energy where digital devices can be charged. "We want it to be a place where people come together and get to know each other in real life instead of just on their phones."
Their idea won the High School Changemaker Challenge, and Hannah and her team were awarded full scholarships to UE.
"If it wasn't for the Changemaker Challenge, I probably wouldn't be going to college at all."
Making Connections
Throughout the planning process for to make CommuniTree become a reality, she has worked with corporations to secure funding, she's worked with engineers to learn how such a structure should be designed and built – and she has been able to see her concept go from design to implementation.
"Evansville is so collaborative, you really learn how to make connections here," she said. "I'm not really treated like a kid anymore – I'm treated like a professional."
Pursuing Innovation
After Hannah started classes at UE, she and her team entered the Collegiate Changemaker Challenge for a chance to win a trip to Konstance, Germany to attend a social innovation convention. Her team, the Solar Innovators, won the challenge with their plan to address issues in Evansville using solar energy.
The trip to Germany was life-changing for Hannah. While attending lectures and taking part in brainstorming sessions, she was continuously inspired and came home with "notebooks filled with more ideas for innovative projects."
The hands-on learning that she has engaged in and the connections that she has made through the Changemaker Challenge have given Hannah's life a new trajectory that she may not have discovered otherwise.