Bachelor of Fine Arts in Theatre Design and Technology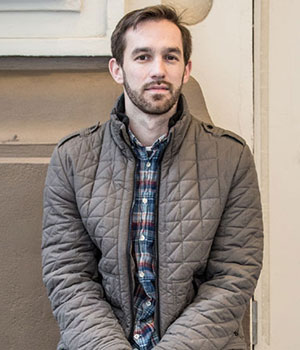 Class Year: 2011
Isaac Katzanek is the production manager for The Shed, a new arts and cultural institution opening at Hudson Yards in spring 2019. Previously he worked for Aurora Productions in New York as a production manager for Broadway, Off-Broadway, and touring productions across the country. "The majority of our work was in New York," he said. "Some of my favorite shows to work on were Frozen, Amelie, and The Elephant Man."
Take the Opportunity to Visit UE
Growing up in large cities, Isaac was looking to get away to somewhere a little smaller that would let him focus on his studies as well as experience life at a different pace. After auditioning and interviewing for several programs across the country, Isaac decided that he needed to make some visits to get a feel for where he'd be spending four years of his life.
Isaac knew of UE Theatre's reputation, but after visiting, he knew UE was the place for him.
A Tight-Knit Community
While the Department of Theatre is a tight-knit group, they are also incredibly welcoming to newcomers. "I was fortunate to be part of such a welcoming community as I developed my skills," Isaac said.
The University of Evansville has a strong history of developing professional individuals with a well-rounded education. The theatre department's reputation is well-known throughout the world, which can provide great opportunities both during college and after graduation.
A Collaborative Experience
Isaac's favorite part of the theatre program was the collaborative educational process during the production of shows. The faculty all possess a wide range of professional experiences, providing students with hands-on learning opportunities that produce tangible results onstage.
"One thing in particular that comes to mind for me was building the massive scenic tree limb for Parade in November 2009," said Isaac. "The design called for a massive tree limb that hung over the entirety of Shanklin's stage." After he constructed the steel frame, theatre professor, Eric Renschler, led a crew of students to turn tube steel into the recognizable bark of a tree. Then, a couple of other professors, Chuck Meacham and Mitch Critel, worked with the crew to hang the piece to create a stunning overhead element.
Mentors who Make a Lasting Impact
While the whole theatre faculty was extremely supportive, both Eric Renschler and Chuck Meacham were key in pushing Isaac toward his current career. "They made sure I would not only become a well-rounded theatre professional, but also a well-rounded individual."
He stills find that he can turn to Renschler and Meacham for advice whenever he's in a tight spot. Isaac is also more than happy to return the favor to current UE Theatre students.
Never Limit Yourself
The biggest piece of advice Isaac could suggest is to never limit yourself. "The four years you spend at UE will undoubtedly give you plenty of experience," he said. "But you should be sure to broaden your horizons whenever possible. This goes for the theatrical world, as you never know where you're going to end up, and having experience or skills in other fields will only further your appreciation for the work your future colleagues will do or get you a job where you least expect it."
That being said, "It's important to take some classes well outside of the department – the course catalog is full of some hidden gems that can expose you to completely new subjects and meet many other people on campus. I can't recommend this enough."